LeBron embracing challenge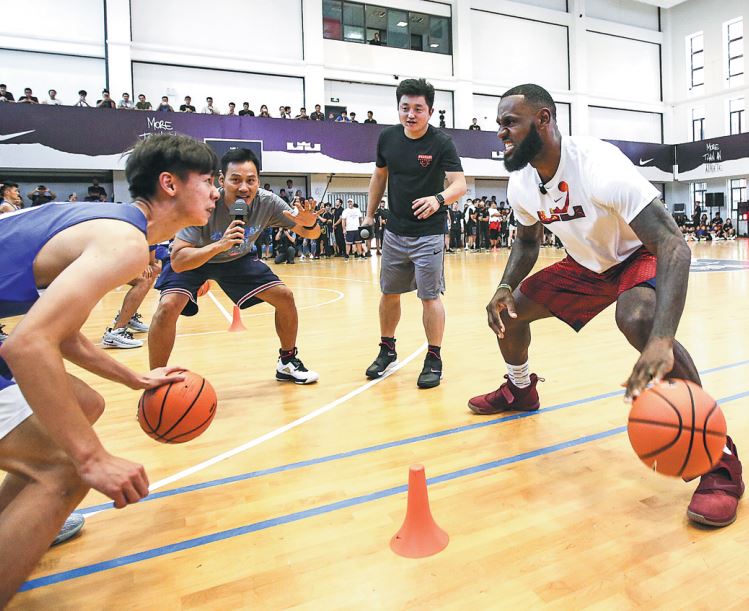 LeBron James has a message for Chinese youth: Don't fear failure.
The NBA superstar, who as a free agent bolted the Cleveland Cavaliers for a four-year, $154 million deal with the Los Angeles Lakers this summer, spoke after interacting with streetballers and coaching student players during a two-day visit to Shanghai on the weekend, organized by his sponsor Nike.
Everywhere he went, James was greeted with chants of "Lakers for champion!"-and he made it clear he understands the weight on his shoulders as he faces a new challenge in a new city.
"I told these the kids the same thing, to not be afraid to fail," said the 33-year-old, who is entering his 16th NBA season.
"Fear of failure will stop you from pushing forward. It's OK to fail; what matters is how you come back from it."
James has played in the NBA Finals every year since 2011, and has every intention of extending that streak with the Lakers.
"That's the goal with my new team and young teammates. We know that the road goes through Golden State. We understand that ... the whole NBA understands that. But that's always the goal," he said.
Unlike his previous visits to China, which kicked off with basketball activities, this time James' first stop was the Shanghai Theater Academy, where he shared his success stories with aspiring young film students.
James' huge personal profile and the Lakers' perennial popularity in China resulted in a sensational reception in Shanghai, where fans swarmed to catch a glimpse of their idol.
According to Chinese media reports, a diehard fan hid for eight hours in a ventilation duct above the auditorium at the Shanghai Theater Academy on Saturday just to see him up close.
A video allegedly shot through the ceiling and posted by the fan, whose identity hasn't disclosed, went viral on Chinese social media on Monday.
The Lakers, who have won 16 NBA championships, were 35-47 last season and haven't made the playoffs since 2013. But a core of young talent, including Kyle Kuzma, Lonzo Ball and Brandon Ingram, has laid the foundation for James to maximize his leadership for a much-anticipated rejuvenation of the franchise.
"Being able to bring my championship DNA and my championship habits to the young Lakers is important, knowing how hungry for knowledge they are," said James.
Kuzma, an All-Rookie first-team member who averaged 16.1 points and 6.3 rebounds last year, said James will help the Lakers regain respect.
"We are definitely excited about the roster and the pieces that we have," Kuzma told ESPN earlier this month.
"We think a lot of people are underestimating us. We are hungry. We are competitive.
"And with a great leader like LeBron, we are ready to make some noise."
James brought Cleveland its first major sports crown since 1964 when he led the Cavs to the 2016 title against Golden State, but lost three other Finals against the Warriors.
The latest of James' career milestones was becoming the first player in NBA history to reach 30,000 points, 8,000 rebounds and 8,000 assists with a triple-double against the Brooklyn Nets in February.
He finished the season third in league scoring, averaging 27.5 points, 8.6 rebounds and a career-high 9.1 assists. And there's no sign that he's slowing down.
"Any time my name is linked to some of the greatest players ever, it's like 'Wow!'" said the four-time league MVP and 14-time All Star.
"What you learn over a career is how you can continue to be as powerful as before but even more efficient and smarter. I think for me, I've learned to be much smarter.
"I can out-think a lot of people during the course of a game, and that's what often gives me an edge."