Russia, Central Asia accept BRI gainful
Share - WeChat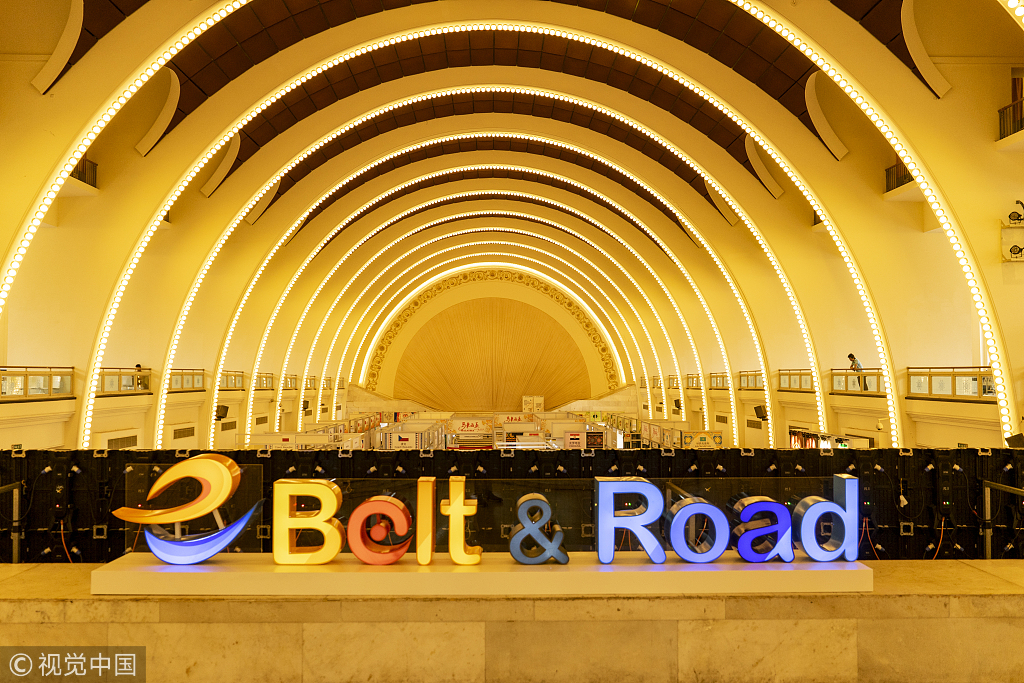 The ancient Silk Road once linked China with Central Asia and Russia, as well as Europe. In the 21st century, Central Asian countries have established even closer economic and trade ties with China. In fact, a series of medium-and long-term economic development strategies devised by the Central Asian countries have much in common with the China-proposed Belt and Road Initiative, and thus have created ample room and good opportunities for strategic cooperation.
That is precisely why when President Xi Jinping proposed the Silk Road Economic Belt during his visit to Kazakhstan in 2013, it immediately received a positive response. Thanks to the coordination between the two countries, the Silk Road Economic Belt and Kazakhstan's development strategy have been synergized and more than 100 cooperation agreements signed.
While vigorously promoting its unique regional advantages across the world, Kazakhstan has highlighted the importance of the "Silk Road" to the global economy. And because of the all-round positive responses, China and the Central Asian countries have managed to coordinate their development strategies within a short time.
The Silk Road Economic Belt proposal has also received a positive response from Russia. On May 9, 2015, the Chinese and Russian governments signed a joint statement on dovetailing the Silk Road Economic Belt projects with those of Russia's Eurasian Economic Union. Russia supports the development of the Silk Road Economic Belt and China supports the development of the EEU. Actually, Beijing and Moscow have been working together to promote the two initiative's projects in the region.
Over the past five years, China has signed cooperation agreements with more than 80 countries, regions and organizations, engaged in capacity cooperation with more than 40 countries and regions, and established 82 overseas cooperation zones with 24 countries. These projects have created a large number of jobs in the host countries and regions, and injected new vitality into their economies.
The Belt and Road Initiative has advanced over the past five years despite the criticisms of Western countries and misunderstandings of some developing countries. Whenever a Western country or leader accuses China of benefiting from Western economies' development, China responds by saying it welcomes other countries to get a free ride on its fast moving economic train.
To those Western scholars who claim the cancellation of the China-backed East Coast Rail Link in Malaysia highlights the risks posed by Chinese development projects overseas, Beijing says the fact that newly reelected Malaysian Prime Minister Mahathir Mohamad chose China for his first foreign visit outside ASEAN member states shows the high importance he attaches to ties and cooperation with China.
And when some Western media outlets claimed Sri Lanka would fall into a "debt trap" because of the China-financed Hambantota port project, the Sri Lankan government said that it itself had invited the Chinese side to build the port and related projects.
Some Western media outlets have also claimed there is intense competition between China and Russia in Central Asia. But the truth is that both countries know the benefits of cooperation in the region far outweigh the possible gains from competition.
More importantly, the Belt and Road Initiative is purely an economic program with no room for geopolitical or military competition, and China and Russia have already reached a consensus on coordinating Silk Road Economic Belt and EEU projects for regional development.
The Belt and Road Initiative aims to connect Asia with Europe and Africa, for which the flow of production factors across the Eurasian continent is important. And it is here that Russia's role is indispensable. Since infrastructure connectivity and smooth trade, as advocated by the Belt and Road Initiative, can bring real benefits to Russia as well as China, there is no reason for Beijing and Moscow to engage in any competition in Central Asia, or anywhere else for that matter.
The Belt and Road Initiative is a win-win economic and trade plan that will benefit not only China, but also Central Asia, Russia and even Europe. Under the initiative's framework, Sino-Russian cooperation in Central Asia will be far more beneficiary for both sides.
And now that Beijing and Moscow are enjoying the best relations ever, the two sides should adhere to the Belt and Road Initiative's principle of "consultation, co-building and sharing" so they can use the geographical advantages of Central Asia and Russia to better connect Asia with the Eurasian continent, and work together to bring tangible benefits to the local people.
In the past five years, countries around the world have become increasingly aware that the Belt and Road Initiative is not China's "one-man show", but a multilateral economic cooperation initiative. China has no intention of competing with other countries to gain regional or global geographical advantage. Instead, it believes in open, inclusive and international cooperation initiatives.
So China's detractors should now acknowledge that, as part of China's global responsibilities, the Belt and Road Initiative has injected new vitality into many an economy and helped boost global economic growth.
The author is a member of Pangoal's Academic Committee, and deputy secretary-general of the Belt and Road Research Center, Chinese Academy of Social Sciences.
Most Viewed in 24 Hours
China Views