Mykonos Muse
Share - WeChat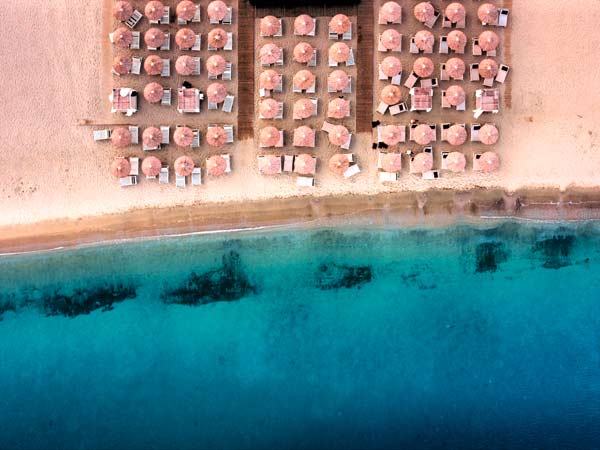 Myths, like the waves, never cease to define the state of mind that is this miraculous Greek island.
From a distance, Mykonos, dressed in dazzling white limestone, looks like a giant sculpture. The stark white houses, so typical of the post-Byzantine Cycladic tradition, look like rocks "strewn by the Great Creator of the world," as the Greek architect Aris Konstantinidis noted in his homage to the island's architecture, Two Villages from Mykonos. The landscape is naked, sparse, with just a few trees and a few thorny bushes battered by wild winds.
Mykonos is an island defined by its traditional cubist architecture. "Unless you have seen the houses of Mykonos, you can't pretend to be an architect," Le Corbusier, the legendary pioneer of modernism, declared after his first visit to the Cyclades in 1933. "Whatever architecture has to say, it is said here."
West of the island lies Hora, the main town and harbor capital. From its ancient promenade and hanging patios, one never tires of witnessing - again and again - the most incredible spectacle repeating itself every early evening: the sun melting or dissolving into a purple-red Aegean. The best spot to experience it is the old area of Kastro; from its heights, one cannot get enough of watching the sun exiting grandly behind the arched bell tower of Panagia Paraportiani.
The town, one of the most stunning in all the Cyclades, is flat - an exception to the rule elsewhere. Its defining feature is the labyrinth of twisting, tapering alleys - its disorienting layout designed to protect locals from marauding pirates. Even today, it is inevitable for first-time visitors to get lost in the tangled lanes, returning to the same spot time after time in search of clues about which path to follow.
Mykonos has one quintessential symbol visible from far away: the windmills. They have stood proudly to the southeast of Hora since the 15th century. These three-level cylindrical mills, with their narrow windows and thatched roofs, played a vital part in the island's economy, providing flour for the countless ships that sailed the Aegean. The millers took advantage of the strong winds; the spinning white triangular sails tirelessly turned the granite millstones that ground the grain to flour.