Tundra and lightning
Share - WeChat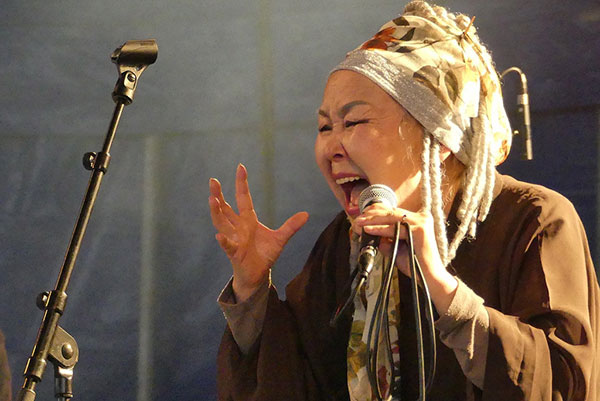 Sainkho Namtchylak, 61, is well-known for her voice that spans seven octaves and her performance of khoomei - a style only performed by men when she began singing. Her music not only contains traditional influences but also elements of avant-jazz, electronic music and modern compositions. Namtchylak has collaborated with the Moscow State Orchestra, the Moscow-based jazz ensemble Tri-O and many other avant-garde musicians from Europe. She has been a resident of Vienna since 1997.
Her band, Sainkho Kosmos, are a group of educated instrumentalists and jazz musicians. The songs she will perform in the upcoming festival will include some old traditional Tuva songs and her songs from published albums as well as new unpublished songs.
All the songs are performed in Tuvan, Russian or English. She has also added songs written by Samm Bennett, the band's drummer who is also a singer-songwriter, into the program.
"His emotional and powerful way of singing is like a volcano of male energy," Namtchylak says.
"I like to give live improvisations during my shows, because studio recordings are an absolutely different way of creating music. In the studio you can stop each time and have many takes since there is no audience. In a live show there is only one chance and you have to keep the spirit of the music within a lively, floating atmosphere and give your best to the audience," she adds.
A founding member of Huun-Huur-Tu, Albert Kuvezin left to start his own band, Yat-Kha, in the early 1990s, with the goal of combining traditional Tuvan throat-singing with rock 'n' roll.
He says that he always pays attention to the sounds and effects used by rock musicians. He also got interested in traditional music and throat singing while trying to find an organic mixture of rock and traditional music.
Since visiting China in 1998 to perform at a music festival in Hong Kong, Kuvezin has performed in the country several times as a solo artist, as well as with Yat-Kha.
"Our musicians love to perform here. Personally, I like the Chinese instrument, the guzheng (Chinese zither) very much," says Kuvezin, who is a master of khoomei and plays the dopshuur as well as a number of other instruments such as the guitar, bass, piano, jaw harp and balalaika.
If you go
Sainkho Kosmos, Sept 14, concert hall of National Library of China, Beijing
Yat-Kha, Sept 16, Mao Livehouse, Beijing
Huun-Huur-Tu, Sept 27, concert hall of National Library, Beijing
Yat-Kha, Sept 14, MIFA 1862 Art Center, Shanghai
Sainkho Kosmos, Sept 15, MIFA 1862 Art Center, Shanghai
Huun-Huur-Tu, Sept16, MIFA 1862 Art Center, Shanghai
Most Popular