US agriculture says we just can't take any more
Share - WeChat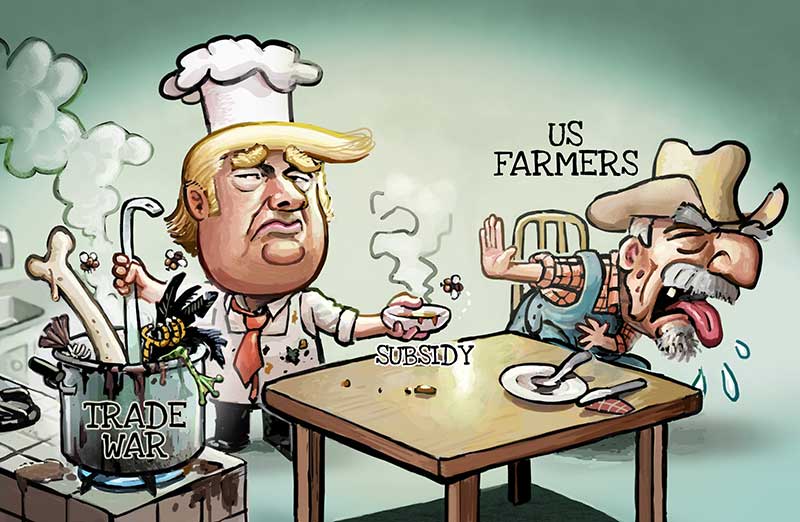 In a rally speech in Tampa, Florida, on July 31, US President Donald Trump defended his trade policies, saying, "China and others have targeted our farmers.… And you know what our farmers are saying? 'It's OK. We can take it.'"
In tune with his plea made a week before to farmers to "be a little patient", Trump continued, "You're going to make it back and it's going to be made back faster than anybody would know."
It might be true that some US farmers have thrown their support behind the president in the hope that his brinkmanship would ultimately bring them benefits as promised. But more and more farmers and their lobbyists believe that his tariff tactics are hurting them, and it is more than they "can take".
Christopher Gibbs, an Ohio farmer and Trump voter, was quick to point out that the big pie in the sky Trump was promising may never materialize.
"Hope is not a marketing plan. Hope is not a business plan. And I know you know that," Gibbs said in a videoed message to Trump on Aug 2.
In March, the price of soybeans was $10.50 a bushel. Today, it's $8.50 a bushel, down by 20 percent, Gibbs said in the video clip posted on The New York Times.
"I have to tell you, Mr President, this hurts. This is hurting our long-term future," he said. "Whether it's transportation, whether it's production, whether it's the clerk at the grocery store, when agriculture gets sick, everybody feels that kind of pain."
China is the US' top market for agricultural products. Taking soybeans alone, China imported 31 percent of US production last year, according to the American Soybean Association statistics.
Gibbs and many analysts believe that the Trump administration's tariff rhetoric serves to only tear down the agricultural markets the US farmers have built over decades, in addition to increasing market uncertainty.
Trump, in a speech in Kansas, Missouri, on July 24, acknowledged the extensive efforts of the US agriculture industry to persuade him to change course. "They have some of the greatest lobbying teams ever put together," he said.
Despite their failure so far to get Trump to change course, these lobbying groups are not giving up.
Farmers for Free Trade, a nonprofit organization dedicated to supporting and expanding export opportunities for American farmers and ranchers, has announced a new, multi-million-dollar campaign "Tariffs Hurt the Heartland" to highlight how tariffs are affecting rural America.
"As farmers head into a harvest and borrowing season that could make or break family farms, they want to know two things: when will this trade war end and when are we going to get back in the business of opening markets to Made-in-America exports?" Farmers for Free Trade spokesman Scott Henry said on Aug 3, the day China announced additional retaliatory tariffs on US imports including agricultural products in response to the US plan to impose 25 percent tariffs of $200 billion dollars worth of Chinese imports.
Americans for Farmers& Families, another industry group, said China's announcement shouldn't come as a surprise to anyone.
"If trade tensions continue to escalate at this rate, the US and China will inevitably hit a point of no return-upending access to one of the biggest customers of American products in the world and causing irreparable damage to our livelihoods, families and economy," Casey Guernsey, spokesman for the group's "Retaliation Hurts Rural Families" initiative, said on Aug 3.
There are many stories and statements in a similar vein lamenting the hurt being done to US farmers and ranchers and others by Trumps' trade policy, and they all boil down to the same message: We can't take it.
The author is deputy editor-in-chief of China Daily USA.
Most Viewed in 24 Hours
China Views