Rouhani warns over Teheran campaign
Share - WeChat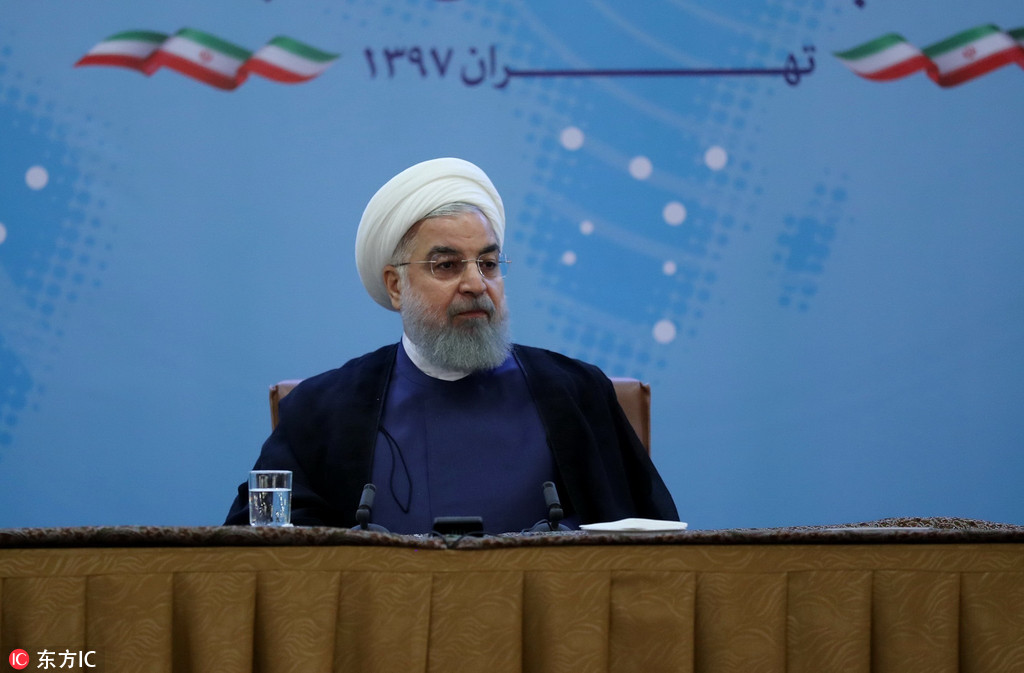 WASHINGTON - The Trump administration has launched an offensive of speeches and online communications meant to foment unrest and help pressure Iran to end its nuclear program and its support of militant groups, US officials familiar with the matter said.
More than half a dozen current and former officials said the campaign, supported by Secretary of State Mike Pompeo and national security adviser John Bolton, is meant to work in concert with United States President Donald Trump's push to economically throttle Iran by re-imposing tough sanctions.
The drive has intensified since Trump withdrew on May 8 from a 2015 seven-nation deal to stop Iran from developing nuclear weapons.
The current and former officials said the campaign paints Iranian leaders in a harsh light, at times using information that is exaggerated or contradicts other official pronouncements, including comments by previous administrations.
The White House declined comment on the campaign. The State Department did not respond to detailed requests for comment, including on Pompeo's role.
A senior Iranian official dismissed the campaign, saying the US had sought in vain to undermine the government since the 1979 Islamic Revolution. He spoke on condition of anonymity.
"Their efforts will fail again," the official said.
A review of the State Department's Farsi-language Twitter account and its ShareAmerica website, which describes itself as a platform to spark debate on democracy and other issues, shows a number of posts critical of Teheran over the last month.
In social media posts and speeches, Pompeo himself also appeals directly to Iranians, the Iranian diaspora and a global audience.
On June 21, Pompeo tweeted out graphics headlined: "Protests in Iran are growing", "Iranian people deserve respect for their human rights", and "Iran's revolutionary guard gets rich while Iranian families struggle".
The tweets were translated into Farsi and posted on the ShareAmerica website.
Incomplete or distorted
But some of the information the administration has disseminated is incomplete or distorted, current and former officials said.
On Sunday, Iranian President Hassan Rouhani cautioned the Trump administration against pursuing hostile policies against Teheran, saying "America should know... war with Iran is the mother of all wars", the state new agency IRNA reported.
Iran faces increased US pressure and looming sanctions after Trump's decision to withdraw the US from the nuclear deal.
Addressing a gathering of Iranian diplomats, Rouhani said: "Mr Trump, don't play with the lion's tail, this would only lead to regret," IRNA reported.
"America should know that peace with Iran is the mother of all peace, and war with Iran is the mother of all wars," Rouhani said.
"You are not in a position to incite the Iranian nation against Iran's security and interests."
Reuters