When the writing is on the wall
Share - WeChat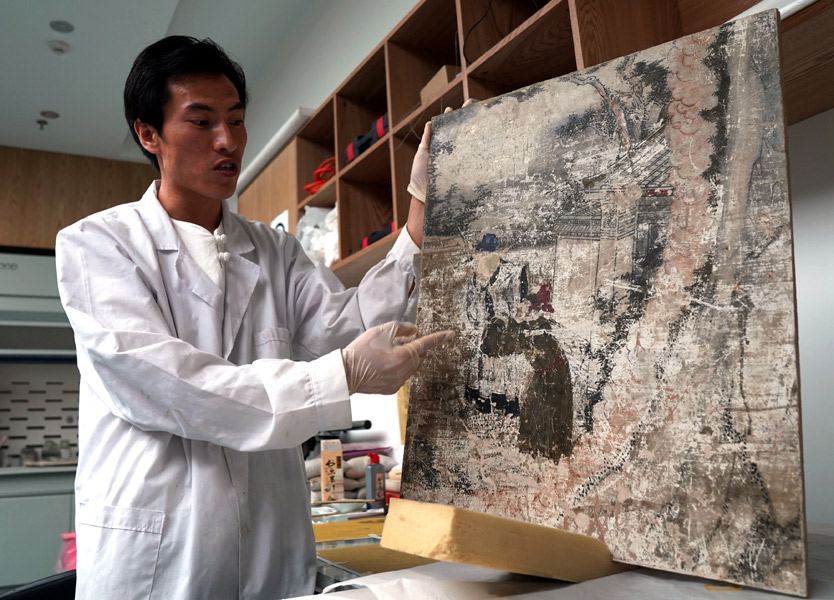 Li Sen goes about his work with all the care of a surgeon, and the reward is seeing ailing pieces of history come back to life
In the basement of a five-star hotel in Xi'an, Shaanxi province, the battle to restore a mural painting from the Qing Dynasty (1644-1911) is in full swing.
Li Sen, wearing a white coat and gloves, is busy safeguarding this cultural heritage, which was saved from an abandoned temple of a small village in Fengxiang county in the west of Shaanxi province in 2014.
The painting, which depicts pilgrims worshipping the god and goddess of the temple, is about 12 square meters. It has been divided into more than 20 pieces, and the restoration is due to be completed next year.
"These murals are irreplaceable," Li says.
"Whenever I touch them I have to take extraordinary care."
Explaining his work, Li says: "One of the most used tools (in restoration) is the surgical blade, and when you're restoring murals it's like a doctor doing surgery. So there is a great deal of fulfillment and exhilaration in saving a mural."
Li, 30, has worked for the Mural Conservation and Restoration Center at the Xi'an Qujiang Museum of Fine Arts for five years. In conjunction with the Shaanxi Provincial Institute of Archaeology, the center conserves, does research on and restores and exhibits ancient murals. The center has also restored 16 murals from the Ordos Bronzeware Museum in the Inner Mongolia autonomous region, a project Li had a role in.
The center was set up by Zhou Tianyou, 74, director of the Xi'an Qujiang Museum of Fine Arts.
Most Popular