LA feels pinch of trade tensions
Share - WeChat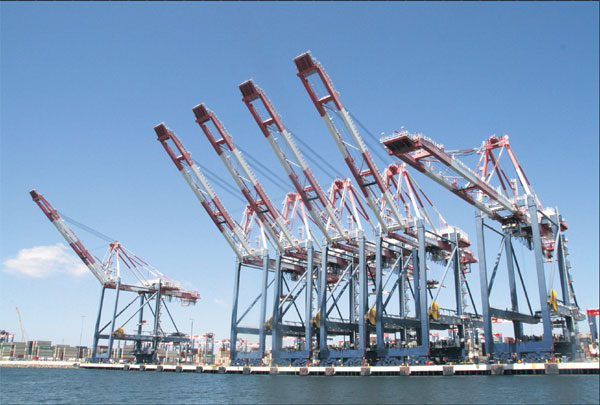 American businessman Peter Shiao had worked hard with his Chinese capital partners on an investment fund, and just as they prepared to announce it this year, China-US trade tensions escalated, forcing Shiao to make an abrupt change in plan.
"We were planning on doing something very significant, impactful for the region, that would've been very great for US employment, that has been put on hold," said Shiao, a Los Angeles entrepreneur, investor and producer who founded Orb Media Group, among several other China-US-based companies.
With the first round of American tariffs on $34 billion in Chinese goods scheduled to take effect Friday at 12:01 am, some business owners in Los Angeles said a potential trade war between the US and China will erode business confidence and add uncertainty to cross-border economic activity.
"It's going to hurt California in general, but it is going to hurt Los Angeles, in my opinion, more than any other regions in the United States because of our close dependency on international trade," Stephen Cheung, president of World Trade Center Los Angeles, told China Daily in a recent interview.
According to a 2018 report by the organization, there are an estimated 10,378 foreign-owned firms in Southern California, representing approximately 1.2 percent of all firms in the region.
Out of those firms, 467 are Chinese-owned, and they are responsible for creating 15,968 jobs and $990 million in estimated wages.
Cheung said that because China is such a massive consumer market, when it adds tariffs on American goods, US exporters will have more difficulty selling their products to China.
When prices on American exports go up, consumers are the ones that will end up shouldering the costs.
"The logistics provider, they are not going to absorb the cost; the manufacturers are not going to absorb the costs, they are going to pass it on to the consumers," Cheung said.
Brandy Kang, president and CEO of Coolpad Americas, a Chinese telecommunications equipment company, said a potential trade war would bring uncertainty to his company's operations.
Coolpad has been in the US since 2011 and employs around 80 people. Kang said 80 percent of the workforce is American. He said that the continued trade standoff could affect the local employment market.
"This is a lose-lose situation," Kang said.
Ye Wei is the executive director and president of the COMAC American Corp, a subsidiary of the Commercial Aircraft Corp of China Ltd, a manufacturer and researcher of aircrafts. He said international corporations would be impacted the most by a trade war.
"When we first invested here, we found that the United States has more restrictions in this industry, so we were very cautious," said Ye. "Now, if there is a trade war, we worry that we might be treated unfairly in the industry because of the emotional responses stirred up by trade tension."
Shiao said he is optimistic that China and US will work out their differences eventually.
"The economic relationship is too big to fail," Shiao said, "because it's too important to fail."