US ports fearing the impact of tariffs
Share - WeChat A decline in trade volume could result in job losses in Long Beach and Los Angeles, warn experts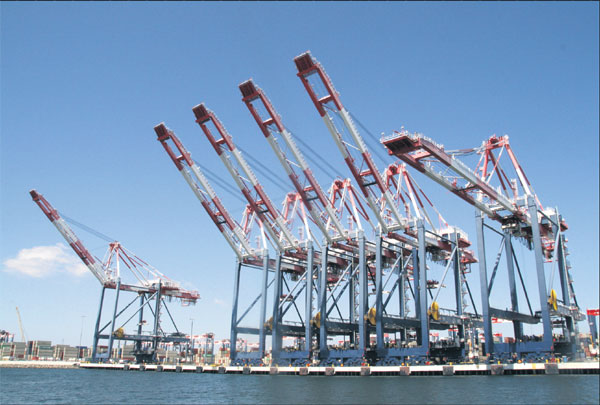 Two key ports in Southern California demonstrate how extensive the trade between China and the US is and the effect that tariffs could have on that business.
"Anything that would reduce the volume of trade between China and the US would have a disproportionate impact on the ports of Los Angeles and Long Beach, and would have a disproportionate impact on the labor force in Southern California involved in moving goods in and out of the ports based in California," says Jock O'Connell, an international trade adviser at Beacon Economics, a California consulting company.
O'Connell warns that a long-lasting decline in trade volume between China and the US would have a major impact on employment among blue-collar workers in Southern California.
"Strategically, someone from the White House might see an upside to all of this, but I think if you are on the ground, if you are in business, if you are in jobs that are dependent upon the movement of goods from American seaports, then you might see this in an entirely different way," O'Connell says. "You might not see any upside at all."
Phillip Sanfield, media relations director at the Port of Los Angeles, says one in nine jobs in the Southern California region is connected to trade at the ports of Los Angeles and Long Beach, which equates to about 1 million jobs.
China is easily the Port of Los Angeles' biggest trading partner. About $284 billion (243 billion euros; £214 billion) worth of goods went through the port in 2017, and $145 billion, or more than half of that trade, was with China, Sanfield says.
Out of the $145 billion, $134 billion worth was goods imported from China, and $11 billion was goods exported from the US to China, he adds.
The top imports from China at the Port of Los Angeles are furniture, clothing apparel, electronics and footwear, while the top US exports are waste paper, pet food, scrap metal and fabrics.
At the Port of Long Beach in 2017, almost 66 percent of all trade activity involved China. About $180 billion worth of cargo passes through the port each year, according to Lee Peterson, port media relations manager.
And at least $100 billion of that comes from trade with China. In addition, China accounts for 69 percent of all imported goods and 39 percent of exports at Long Beach, says Peterson.
The port generates 300,000 jobs across Southern California, and there are 5,000 dockworkers and 10,000 truck drivers working there, Peterson adds.
So the recent volleys between the US and China on tariffs have naturally raised concerns.
"There is a lot to be concerned about, considering how many people's jobs are tied to the port here in Long Beach," Peterson says.
The White House announced on June 15 a 25 percent tariff on up to $50 billion in Chinese exports that include "industrially significant technologies" as punitive measures for alleged intellectual property theft.
China's Ministry of Finance quickly countered on June 16 with its own 25 percent tariff on 659 US products worth up to $50 billion that include items such as soybeans, beef, whiskey, electric cars, chemicals and energy products.
On June 18, US President Donald Trump threatened tariffs on an additional $200 billion of Chinese exports.
In response, the Ministry of Commerce vowed to "fight back firmly" if the US went through with the tariffs.
Stephen Cheung, president of the nonprofit World Trade Center Los Angeles, which focuses on international trade, says tariffs could hurt Los Angeles more than other regions in the US, due to its reliance on international trade, especially with China.
"The LA region is the No 1 customs district in the US, which means we have more than $430 billion in two-way trade with the rest of the world every year. Our largest trading partner is China, with over $150 billion in two-way trade just last year," Cheung says.
"So if there is any disruption to that trade pattern, we are not going to be able to move as many products between China and Los Angeles."
Cheung says a reduction in trade activity could hurt the logistics sector, especially jobs tied to the moving of goods in the ports of Los Angeles and Long Beach and at Los Angeles International Airport.
In Northern California, Mike Zampa, communications director for the Port of Oakland, says it is premature to speculate on what kind of impact the tariffs could have on trade at his port, but he says agricultural exports have grown substantially in recent years, and "the port would be disappointed by anything that dampens the progress made by agricultural exporters".
The American Association of Port Authorities estimates that seaport cargo activity supports the employment of more than 23 million Americans and accounts for 26 percent of the US economy.
teresaliu@chinadailyusa.com