Rising rookie Pinduoduo issues US IPO prospectus
Share - WeChat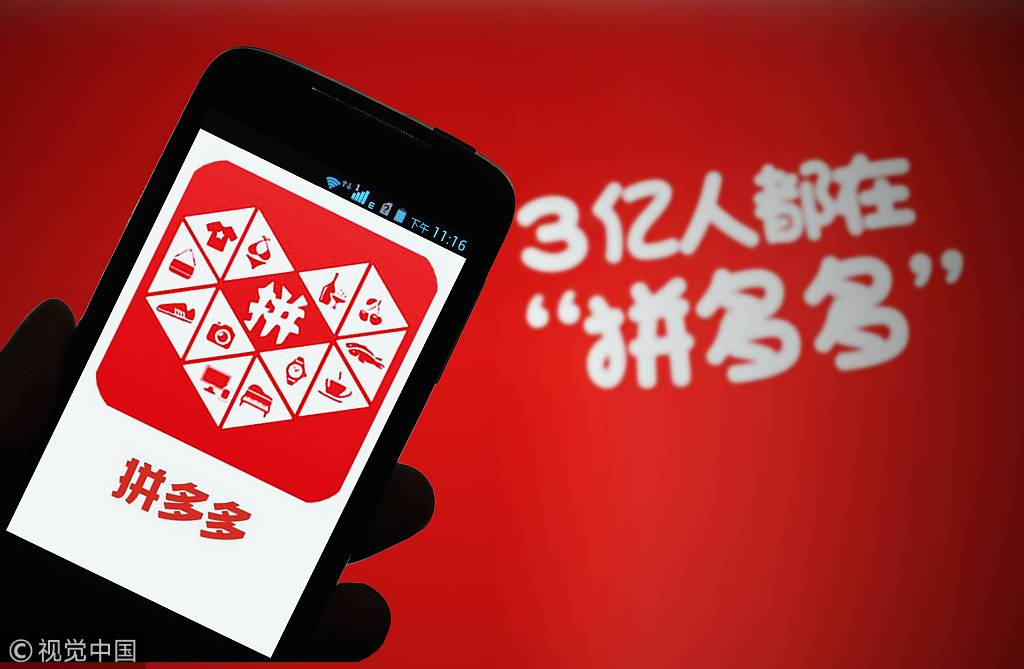 Walnut Street Group Holding Ltd, parent company of Chinese e-commerce platform Pinduoduo, filed a prospectus with the US Securities and Exchange Commission for an initial public offering on Friday, local time.
It plans to raise $1 billion through this IPO and Credit Suisse, Goldman Sachs (Asia) LLC and CICC are the joint underwriters for the IPO according to the prospectus.
Founded in September 2015, a time when China's e-commerce market seemed dominated by major players such as Taobao and JD.com, Pingduoduo paved a new way through its "team purchase" model and has experienced exponential growth.
Despite its status as a latecomer, the platform's gross merchandise volume reached 141.2 billion yuan ($21.3 billion) last year, with total orders growing to 4.3 billion, the prospectus revealed. In the first quarter this year, its GMV and number of total orders reached 66.2 billion yuan and 1.7 billion, respectively.
The company has attracted 295 million active buyers and more than 1 million merchants in the twelve-month period ending March 31, which makes it China's third largest e-commerce platform by active users behind Taobao and JD.com, according to the prospectus and a report by ce.cn.
In addition, while Pinduoduo's monthly GMV has already surpassed 10 billion yuan, it took JD.com six years to reach this goal, the report said.
In its prospectus, Pinduoduo describes its "team purchase" model as a new shopping format that provides consumers with value-for-money commodities and transforms online shopping into a interactive, dynamic social experience.
The model encourages consumers to share product information on social networks such as Wechat and QQ, and invite their contacts to form a shopping team to get lower prices together, according to the prospectus.
Despite its rapid market expansion, Pinduoduo is still in the red. The company suffered net loss of 292 million yuan and 525.1 million yuan in 2016 and 2017 respectively. And in the first quarter of this year, its net losses reached 201.0 million yuan.
Responding to a question about why Pinduoduo is rushing to capital markets so early, Pinduoduo CEO Huang Zheng said in a letter to shareholders there is no difference between listing in three years, five years or longer if a long-term view is taken, and the company may grow better and stronger with public scrutiny and regulatory supervision.
The prospectus also included an announcement of artificial intelligence expert Lu Qi, former chief operating officer of China's internet search giant Baidu Inc, is an independent director nominee at Pinduoduo. Lu has been called "the most powerful Chinese in Silicon Valley" by some media outlets.
"If you close your eyes and visualize the next stage for Pinduoduo, it would be a combination of 'Costco' and 'Disneyland', driven by a distributed network of intelligence agents," Huang said in his letter.
China is the biggest e-commerce market in the world, with its consumers spending 7.18 trillion yuan ($1.1 trillion) online last year — 32 percent more than 2016, according to data released by the National Bureau of Statistics.