Audi acquires 1% stake in SAIC Volkswagen JV
Share - WeChat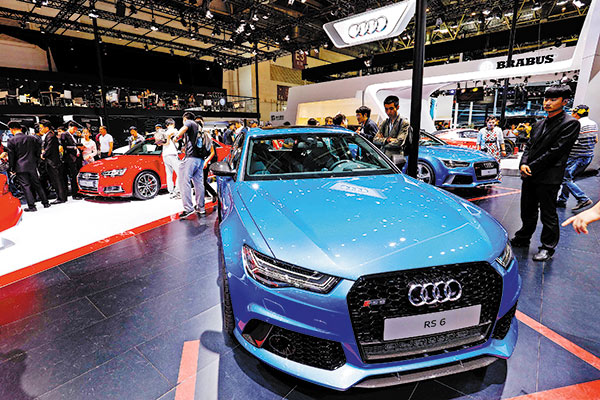 The symbolic stake makes it legal for the German carmaker to localize cars in China
Audi AG has become a shareholder in the joint venture between its parent company Volkswagen AG and China's SAIC Motor Corp, which marks another step in its drive to localize vehicles with a second partner in its largest market worldwide.
Audi now holds a 1 percent stake in SAIC Volkswagen, said SAIC Chairman Chen Hong as he addressed a shareholders' meeting on Tuesday. Audi and SAIC inked the deal to localize and sell Audi cars in late 2016.
Equity ownership in a joint venture is a prerequisite for international carmakers to localize models in China, according to the country's industrial policies.
Industry insiders say the 1 percent equity is largely symbolic, but that number is expected to rise as the situation evolves. In comparison, Audi holds a 10 percent stake in its first joint venture in China, FAW-Volkswagen, which is currently localizing Audi models.
In a statement on Tuesday, Audi China said it acquired the 1 percent stake in SAIC Volkswagen in June from Volkswagen AG, which now holds a 38 percent stake in the joint venture.
Other shareholders are SAIC, which holds 50 percent; Volkswagen Group China, 10 percent; and Skoda Auto, 1 percent.
This is one base to start the planned first car projects in terms of development and production preparation with SAIC Motor, Audi China said in its statement.
In an interview in late April, Audi China President Joachim Wedler told China Daily that Audi and SAIC were in the process of deciding which of its models would be manufactured, and that the final picks would emerge within months.
He added that planning on production and sales network building would come after model planning.
Audi did not disclose the latest developments in its statement on Tuesday, but said the "SAIC-Audi project is progressing according to the planned timeline and as agreed with all relevant stakeholders".
Cars from SAIC Volkswagen will not hit the market until 2022, according to a deal Audi reached with FAW Group.
Audi has hoped that the partnership with SAIC will help to complement its midterm development in China, where it has been the sales champion in the premium segment for 30 years in a row.
Analysts said FAW-Volkswagen will remain the most important weapon for quite a long time to come for Audi to defend its position in China.
The joint venture produced an absolute majority of the about 600,000 models Audi sold in China last year. Audi sales surged almost 34 percent to 207,000 from January to April this year.
Audi has decided to more than double the local model portfolio at FAW-Volkswagen in five years, Wedler said when its flagship Q8 SUV made its global premiere last month in Shenzhen, Guangdong province.
The joint venture is also enriching its Audi lineup with electric models, which are gaining in popularity in China. The e-tron, Audi's first electric car, will be localized starting in 2020, according to the company. By 2022, it will offer 10 electric Audi models in different segments, said Jing Qingchun, executive vice-general manager of FAW-Volkswagen's Audi sales division at the Shenzhen event.