Parisian walkways
Share - WeChat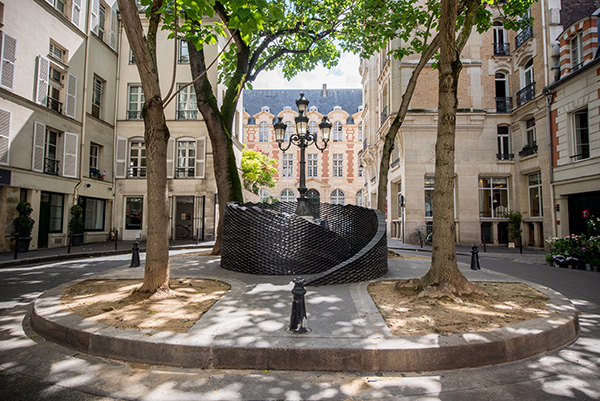 At the end of May in Paris, the sun was fierce and dazzling. A "bamboo scaffold" stood in front of the Saint-Germain-des-Pres Cathedral, causing passers-by to stop and take a look. The Place Furstenberg (also known as "Valentine's Square"), which is a few steps away, is also different from usual. A street lamp was surrounded by a semi-translucent tile wall.
The two artworks - which feature elements inspired by Chengdu and oriental charm - have been created and presented by Zhao Mi and Chen Weicai, two leading artists from Sichuan province. Their goal of this trip was to participate in the 18th Parcours Saint-Germain in the heart of the city's Rive Gauche - or Left Bank - and help open a dialogue between the world and the motifs of traditional Chinese culture.
The story behind this cooperation derives from an international friendly cooperative relationship established between Chengdu International Finance Square (Chengdu IFS) and Saint-Germain-des-Pres Committee. On the first anniversary of the formation of this partnership, they invited Sichuan artists to debut their art installations featuring traditional Chinese artistic elements at Parcours Saint-Germain.