Forgotten Chinese Titanic survivors remembered in new documentary
Share - WeChat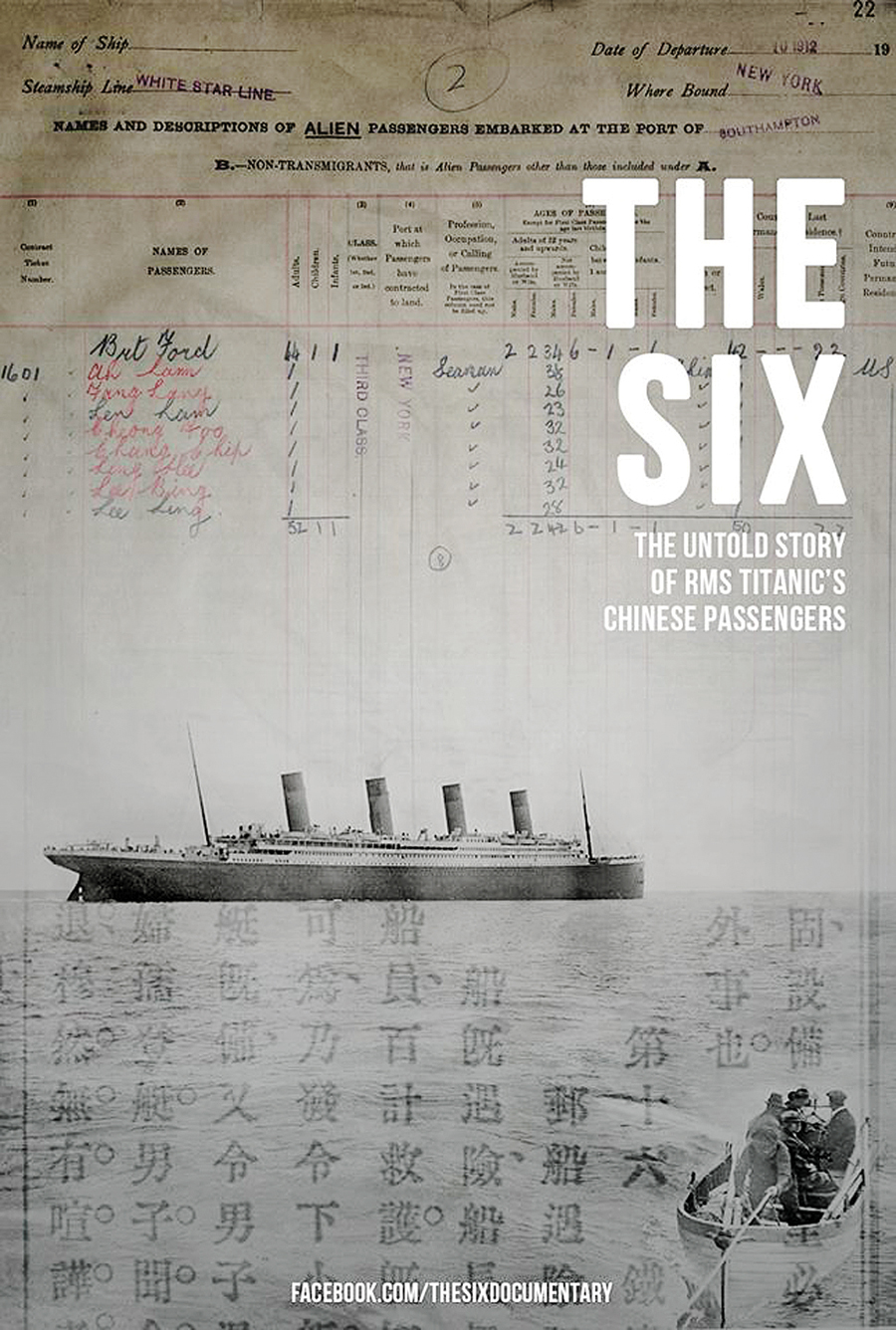 The story of the doomed maiden voyage of RMS Titanic is known to most people, but the tale of the six Chinese men who survived the disaster is absent from the history books.
It was this little-known fact that sparked a new documentary, The Six, and a bid to find out what happened to those Chinese survivors.
"Who are they? Why were they on Titanic? How did they survive? What happened to them?" said Steven Schwankert, lead researcher and historian for The Six.
Schwankert and British documentary maker Arthur Jones began their research three years ago and found the names of the Chinese men on a single ticket for third-class passengers.

They were listed as, Lee Bing, Fang Lang, Chang Chip, Ah Lam, Chung Foo, and Ling Hee. Lee Ling and Len Lam died in the disaster.
In April 1912, the eight Chinese passengers were among the 2,200 passengers who boarded RMS Titanic bound for New York from Southampton, England.
The ship struck an iceberg and more than 1,500 people lost their lives. Around 700 survived.
Fang Lang was found on a floating piece of wreckage by other survivors in a lifeboat. Four others made it onto one lifeboat and the remaining man made it onto another.
Questions were raised at the time over whether the Chinese passengers were stowaways or workers on the Titanic. Schwankert said neither was true.
"They were fare-paying passengers," he said from Beijing.
The documentary took Schwankert, Jones and their crew to the United States, Britain, and China.
"We basically pulled at every thread we could find and then, if that thread leads to something else, then we kept going with it," Schwankert said.
After they were rescued, the professional mariners were taken to an immigration point in New York but were forced to leave the country the next day because of the US' Chinese Exclusion Act.
They then boarded a freighter bound for the Caribbean, which had always been their ultimate destination.
"Knowing their story also helps us to shine a light on aspects of the Titanic story that you would otherwise not know," Schwankert added. "Four of the six shared a lifeboat with Joseph Bruce Ismay, owner of the Titanic. This allowed us to look through Ismay's testimony and to see who else was on board."
The documentary-makers tracked down the men's descendants and relatives. Some were not even aware of the connection to the Titanic.
The team also made a recent visit to Taishan in Guangdong province, which had been home to one or more of the survivors.
The film will be released at the end of the year.