A participant, beneficiary and contributor
Share - WeChat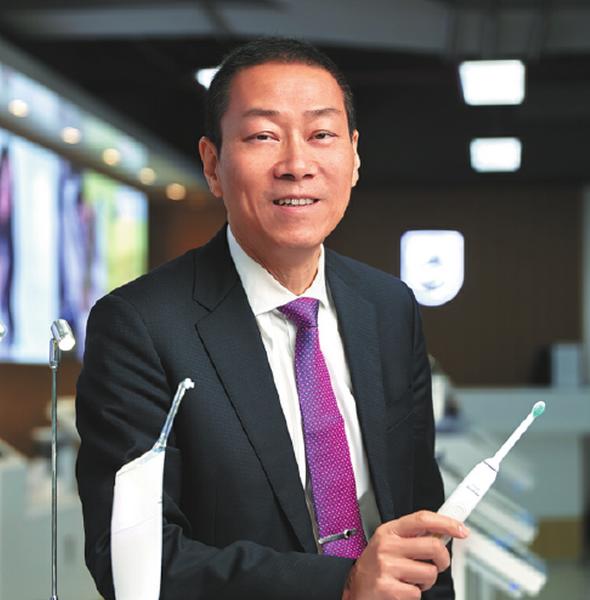 Philips focuses on areas related to health and lifestyle in a commitment to improving Chinese people's lives through innovation
Editor's Note: This year marks the 40th anniversary of China's reform and opening-up. China Daily interviewed top executives of well-known multinational companies for their views on the country's socioeconomic development.
Please use three words to describe China's changes in the past 40 years.
An innovation leader, a fast-growing economy, and a center of international attention.
What are the biggest achievements in China since the introduction of the reform and opening-up policy 40 years ago?
The past four decades since China opened its doors saw a transformed China that has grown into the world's second-largest economy, the largest producer of industrial output, the largest trader in goods and the largest holder of foreign exchange reserves, lifting more than 700 million people out of poverty.
Meanwhile, China has also been globalizing itself alongside its opening up and reform. From its accession to the World Trade Organization to the launch of the Belt and Road Initiative, China has evolved into a main stabilizer and powerhouse of the world economy.
Moreover, China has also made substantial progress in improving people's living standards since its opening-up policy - globally recognized progress in healthcare, the establishment of a health insurance system that covers both urban and rural residents, the increasingly mature healthcare system, the increasingly robust frameworks for pharmaceuticals manufacturing, distribution and regulation, alongside the continuously improved health of its people.
Currently, the Chinese government is advancing the strategy of Healthy China 2030 by promoting tiered healthcare and strengthening primary care institutions and digital healthcare. Preventive care has been established as a priority of China's healthcare reform. All these measures are intended to make healthcare more affordable and accessible to build a "sense of gain" among its people.
What's the biggest challenge China faces today and how can the country overcome it?
China's rapid economic growth, urbanization, globalization and aging population is coupled with the expanding prevalence of chronic diseases such as high blood pressure, diabetes, stroke, tumors and obesity. Sedentary lifestyles, unhealthy diets, irregular sleeping habits, smoking, alcoholism and environmental pollution combined with other risk factors are the reasons behind China's growing population of chronic disease sufferers, who are causing enormous financial burdens on their families and the health system.
In 2018, Philips released the Future Health Index, which is based on a survey of consumers and healthcare professionals from 16 countries in terms of a value-oriented health system to identify the unmet needs in global health systems and future trends.
In China, the survey finds that both the general public and healthcare professionals feel low satisfaction with the value of current health systems. This is mainly due to the low integration among health systems and the wide gap among disciplines, as evidenced by the disconnect between care in and beyond hospitals, between disciplines and different levels of hospitals, between doctors and patients, and between healthcare systems, which has resulted in inefficiency and unsatisfactory patient outcomes, as well as the excessive focus on diseases.
However, there is also positive feedback showing that the Chinese government, professionals and the general public are all welcoming and open to the use of advanced technologies in healthcare, such as digital, connectivity and artificial intelligence.
Therefore, China has the potential to leapfrog the innovation gap to surpass developed countries in addressing challenges facing its health systems as a role model for other developing economies.
How has your company benefited from the country's reform and opening-up?
Alongside China's opening up and reform, Philips has been playing multiple roles - as a participant, a beneficiary and a contributor.
Philips is one of the first multinational companies to enter the Chinese mainland. Over the past 33 years since establishing the first joint venture in 1985, Philips has been committed to the market and has been growing almost in tandem with China's reform. The past three decades also witnessed Philips' courageous transformations one after another that have been sustaining its growth, but our brand commitment - Innovation and You - has never changed. Aligned with the trends and needs of the Chinese market, Philips has been focused on areas related to health and lifestyle in a commitment to improving local people's lives through meaningful innovation.
Has competition intensified between your company and Chinese companies?
The mass entrepreneurship and innovation campaign championed by the Chinese government has led to the rapid rise of homegrown companies and thus increased market competition as well as more options for customers and consumers to choose from. The drive has also added vitality to the market, turning China into a global magnet for capital, technology and talent.
The quick ascent of the so-called "Internet Plus" and New Retail has also generated a profound impact on the world economy. In this strategically significant market to Philips, we are committed to becoming a local global company with an open mind to adapt to the local competitive landscape and co-create with local ecosystems.
In fact, we are also enlightened by the market, which has been made more competitive and complicated by stronger local companies. Strategically, we are even more motivated to stick to our behaviors - Customers First, Quality and Integrity Always, Team up to Win, Take Ownership to Deliver Fast, and Eager to Improve and Inspire - so that we can serve local customers and consumers faster and better.
Could China's experiences and practices be used to solve global problems?
Of course they can. China is a very unique market. While aligning ourselves with global mega trends, we also have to consider the distinctive needs of Chinese customers. The government call for mass entrepreneurship and innovation has given birth to many new products, new technologies, new brands and new business models that give local customers more options.
In this increasingly competitive market where consumers are constantly trading up, we have deployed an end-to-end supply chain to customize products and solutions for China, with the support of pioneering business models. What we are doing here can not only inspire other emerging markets, but can also contribute back to our global growth as a boost to product improvements and innovation.
What is the most unforgettable experience you have had in China?
I have worked and lived in several countries and regions, including China, the United States and Canada, but no other country is more astonishing to me than China. Its opening-up and reform have been speeding up consumers' pace to trade up, leading to a changed market environment and new channels.
On the one hand, consumers' trading up has stimulated consumption, while innovation has become the main resort to satisfy the needs of these consumers who value quality, health and individuality. Their shifting focus from price to quality is reversing the vicious cycle of price competition in the retail market.
Apart from economic development, what progress in other fields have you witnessed in China in the past 40 years?
In the booming Chinese economy, I have seen impressive progress made in healthcare reform - China has built the world's largest health insurance network. At the same time, its healthcare sector also finds itself faced with changing consumer needs.
As a company focused on health technology, we have noticed China's considerable progress in healthcare, and we are impressed by the government's strategy and execution despite the challenges facing current health systems.
CV
Name: Andy Ho
Nationality: Canada
Age: 57
Career:
July 2016 onwards: Member of the executive committee of Royal Philips NV
Nov 2015 onwards: CEO of Philips (China)
Aug 2015: Joined Philips (China) as executive vice-president
Education:
Bachelor's degree in business administration, Chinese University of Hong Kong.
Family: Married