AI drive to improve healthcare
Share - WeChat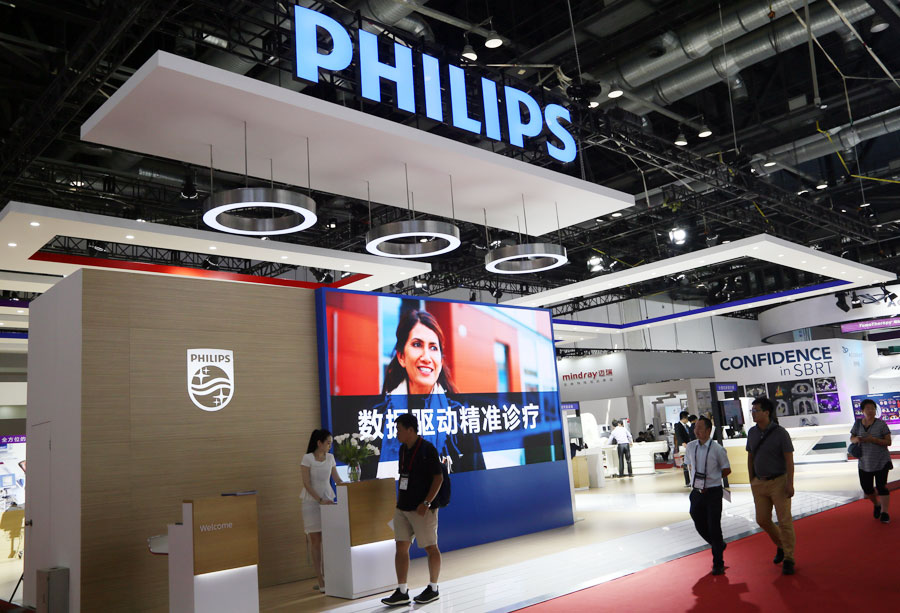 Philips' high-tech investment aligns with national health strategy, focus on key sector
Royal Philips NV is scaling up its adoption of artificial intelligence in a variety of medical offerings as the Dutch firm hones its focus on the healthcare sector.
China will be one major market and beneficiary, thanks to partnership deals with local hospitals in AI-powered medical solutions, according to Andy Ho, CEO of Philips China.
The healthcare specialist earmarks 1.7 billion euros ($2.03 billion) annually-roughly 10 percent of its global revenue-for research and development, 60 percent of which is dedicated to software and AI-related development, he said.
"The Healthy China 2030 national strategy is a grand vision to bolster development in key healthcare domains and improve people's quality of life," Ho said. "AI-based solutions have great potential to improve patient outcomes and care efficiency."
In China, medical records are less well-documented or structured than in most developed economies, a primary drag on doctors' work efficiency and accuracy. In a joint research program with Zhongshan Hospital in Shanghai, Philips uses natural language processing to improve clinicians' workflow by halving the time normally needed to read handwritten medical records and diagnostic charts.
It also adopts diagnostic imaging solutions to detect early symptoms of certain diseases in the lungs, breasts and other areas, Ho said. He projected the technology will grow 30 percent on a yearly basis.
Big data analysis is also at play, according to Ho. By extracting insights from data, doctors can expand their contextual understanding of a patient's history, thus improving personalized therapy.
Philips is combining different sets of AI expertise into a holistic solution to streamline workflow and optimize medical treatment, as exemplified by projects co-conducted with West China Hospital in Sichuan province and Peking University First Hospital, said Choo Chiap Chiau, director of the Artificial Intelligence Lab at Philips Research China.
"We can curate the data and use AI to support precision diagnosis, early intervention and greater hospital efficiency," he said.
Generating 17.8 billion euros of revenue last year, Philips has pledged to increase sales and improve profit margins after refocusing its business on healthcare equipment and services, while exiting from manufacturing products such as light bulbs, TVs and CDs.
Growth in the AI health market is expected to reach $6.6 billion by 2021, representing a compound annual growth rate of 40 percent since 2014, according to consultancy Frost & Sullivan.
Meanwhile, China's leading tech players, such as Tencent Holdings Ltd, are delving into AI medical diagnosis, encouraged by a slew of favorable government policies to develop the country into an AI powerhouse by 2030.
"Compared to pure IT players, we find our competitiveness in our profound understanding and rich experience in clinical medicine," Ho said, adding the company's solid financial backing is another benefit.