Chinese tourists to Ireland expected to more than double by 2025
Share - WeChat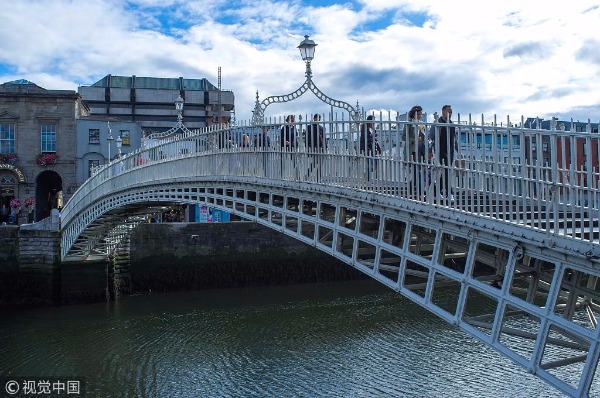 The number of Chinese tourists visiting Ireland could reach 175,000 in 2025, more than double that in 2017, according to Tourism Ireland.
About 70,000 Chinese visitors went to Ireland last year, up about 15 percent year on year, according to Niall Gibbons, chief executive of Tourism Ireland.
"China is one of Ireland's fastest growing tourism source markets, and the growth rate is likely to double in the near future," he added.
Gibbons made the remarks at the ongoing Tourism Ireland annual travel China Sales Mission event. It will tour Beijing, Shanghai, Guangzhou and Hong Kong with the aim of sealing more partnerships and deals with local counterparts to bring more Chinese tourists to the island.
A total of 20 Irish tourism market players including travel agencies, hotels and popular destinations like Guinness Storehouse, have joined this year's China Sales Mission, the largest ever held by Tourism Ireland.
"That points to increasing importance as well as our confidence of the Chinese outbound travel market," Gibbons said.
To cater to the growing inflow of Chinese tourists, Tourism Ireland and Irish tourism partners have launched the China Ready training program, which is designed to help Irish tourism firms grab business opportunities in China such as introducing popular mobile payment tools like WeChat.
Starting from June, Chinese visitors can take direct flights operated by Hainan Airlines or Cathay Pacific Airways to Dublin, either from Beijing or Hong Kong.
Official data showed that China-Ireland trade volume exceeded $10 billion last year, up 36.7 percent year on year.
"With the opening of the two direct flights, plus growing bilateral trade, there is every indication of the continuous growth of Chinese visitors into next year and beyond," Gibbons said.