Direct flights to link Ireland and Beijing
Share - WeChat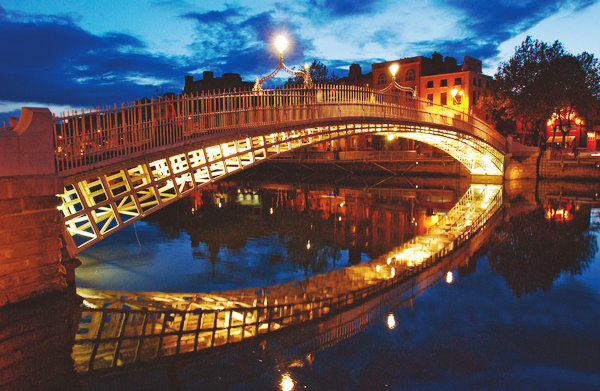 The forthcoming first direct flight connecting the Chinese mainland and Ireland is expected to boost bilateral tourism.
The Hainan Airlines flight between Beijing and Dublin is scheduled to start operating on June 12. It'll also stop over in Scotland's capital, Edinburgh, for roughly two hours.
This first-ever direct route to the Chinese mainland and the first Irish destination in Hainan Airlines' network is a major achievement, which will prove transformational to the bilateral relationship between China and Ireland, according to Irish Minister for Foreign Affairs and Trade Simon Coveney.
The growing numbers of Irish tourists, students, businesspeople and other travelers living and spending time in China will not only benefit from the nonstop service to Beijing but also from the numerous connections that Hainan Airlines offers throughout China and the wider Asia-Pacific region.
About 70,000 Chinese visited Ireland in 2017. The new flight and favorable visa policy are expected to attract more visits in future.
"We look forward to welcoming greater numbers of Chinese visitors who can enjoy travel throughout the island and in Great Britain on a single visa using the British-Irish visa scheme," Coveney adds.
The Irish and British ambassadors to China launched the British-Irish Visa Scheme at the British embassy in Beijing in October 2014.
The plan calls for allowing some Chinese short-stay-visa holders to Ireland to travel onward to the United Kingdom and for some Chinese UK-visitor visa holders to travel onward to Ireland.
Ireland will offer three-year multi-entry visas to eligible Chinese tourists and five-year visas to those who have ongoing business concerns in Ireland, Coveney says.
The island of Ireland has a significant Chinese population and a wide variety of Chinese restaurants.
Tourism Ireland has advised local hotels and bed and breakfasts targeting Chinese visitors to offer free Wi-Fi, green tea, toiletries and slippers.
It has also suggested providing Chinese visitors with information on how to claim tax refunds. A brochure with information on Unique Irish Shopping brands has been produced and will soon be printed in Chinese.
Tourism Ireland and partners are currently working on a China Ready training program. Several Irish tourism providers have already completed similar training programs to learn about the Chinese language, culture, cuisine and specific requirements and needs, Ireland's tourism authority says.
The island has fantastic coastlines and stunning scenery that have been used in blockbuster movies and TV series, including Star Wars. The Wild Atlantic Way along the West coast has been drawing an increasing number of tourists who drive themselves.
About 65,000 passengers flew between Beijing and Edinburgh in 2017, a 13 percent year-on-year increase, Beijing's international airport reports.
The new flight service will enable Chinese visitors to enjoy the Scottish highlands, sample distinctive whiskey and play golf on some of the world's oldest and most famous courses.