The art and craft of paper cutting
Share - WeChat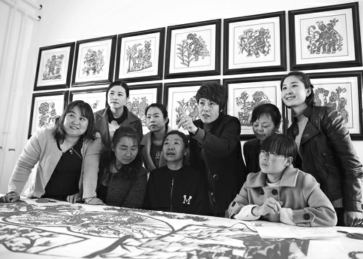 The first thing that greets visitors at Gao Fengying's home is a stocky, floccose burro foal. "It was born just last week ...," says Gao Lailiang, Fengying's father, apologetically. "Even Fengying has not seen the new member of our family. She is too busy with her paper-cutting course in the town," Gao Senior says.
The cave-house of the Gao family is no different from others on the Loess Plateau in Ansai, Northwest China's Shaanxi province, except for the eye-catching red-colored paper cuttings on the walls and windows, whose reflection lits up the dark inside of the cave.
"My daughter was born in this cave. She dropped out of school because of poverty and has worked as a farmer since childhood. She started learning paper cutting from the age of 8. She is a bright girl ... (but) I didn't think she can make a living out paper cutting," Gao Sr. says.
The art of paper cutting has a history of more than 1,500 years on the Loess Plateau. Paper cuttings are used to decorate the windows, beds, rice containers and flour vats, and exhibit the homeowners' longing for good luck.
In fact, Chinese paper cutting is on the UNESCO Intangible Cultural Heritage List thanks mostly to farmers, who in their spare time used either scissors or knives to create intricate designs, patterns and fashion fascinating objects. Scissors are used by most papercut artists, though.
The dedication and hard work of the farmers-cumartists have transformed what originated as a method of cutting patterns on paper for embroideries into a rich folk art form.
"I learned paper cutting first from my mother when I was 8," says Gao Fengying, 36. "My work was liked by the whole family and neighbors. That encouraged me... and boosted my confidence."
Gao Fengying fine-tuned her skills under the guidance of Li Xiufang, a 70-year-old paper-cut artist in 2012, who also inspired her rise to greater heights. Without her, she says, she might not have been so "innovative, and ...win provincial and national awards."
After achieving fame as a "paper-cut master", she founded the first paper-cutting company in neighboring Ganquan county, and soon bid farewell to her hand-to-mouth existence. Later, she submitted a proposal to the township government to run a workshop to train local farmers in the art of paper cutting, so as to help them emerge out of poverty. Her proposal was endorsed by the government, and the workshop has become very popular among the local people.
Most Popular