China-Russia CR929 begins joint concept definition of body, tail
Share - WeChat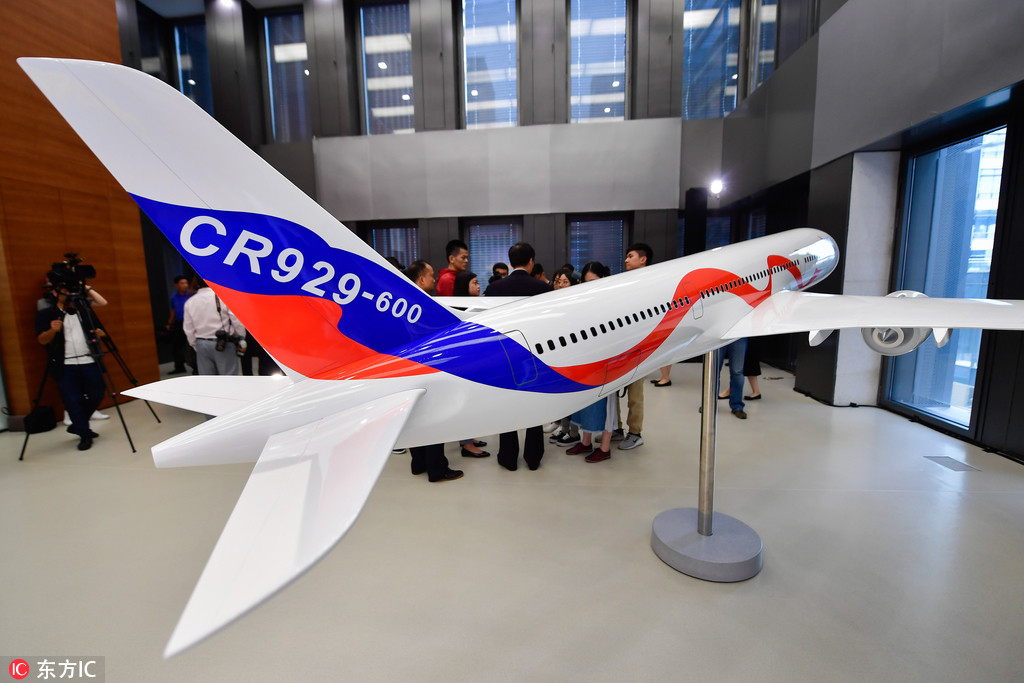 SHANGHAI - A China-Russia wide-body aircraft development project has kicked off the joint concept definition phase for the body and tail of the plane.
"A team of Chinese and Russian engineers is currently drafting the general technical proposal for the CR929, a 280-seat jet with a range of 12,000 kilometers," said Guo Bozhi, general manager of China-Russia Commercial Aircraft International Co (CRAIC).
"The CR929 will make extensive use of composites in its structure," said Guo, who is also the deputy general manager of the Commercial Aircraft Corporation of China (COMAC).
Shanghai-based CRAIC is a joint venture of COMAC and its Russian partner United Aircraft Corp (UAC).
It was set up in May 2017 to jointly develop the CR929.
COMAC undertakes the tasks of designing and developing the fuselage and empennage, or the tail, according to the work distributions of the Chinese and Russian sides.
Both sides are now pushing their works on the CR929's structure.
Guo said that the wide-body project adopted the model of "main manufacturer-suppliers," and the stance of "sharing risk and benefits" to boost domestic and international cooperation.
On March 22, CRAIC joined COMAC and UAC to start the joint concept definition of the engine and airborne systems for the CR929, according to COMAC.
Meanwhile, they are also steadily carrying out work selecting suppliers of the airborne systems.
The CR929 project is viewed as a major move to strengthen China's presence in its surging civil aviation market, which is dominated by US Boeing and European Airbus aircraft.
It is also a further demonstration of China's determination to boost its aviation industry following its self-developed C919 narrow-body aircraft, which conducted a successful maiden flight on May 5 last year.