C919 3rd test flight lasts 228 minutes
Share - WeChat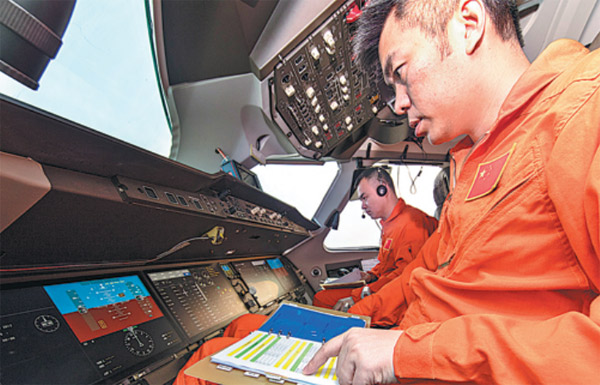 Pilots prepare for the third test flight of the home-developed C919 on Friday in Shanghai. [Photo provided to China Daily]
The C919, China's first home developed large passenger plane, made its third test flight on Friday morning, 36 days after its previous test flight on Sept 28.
Taking off at 7:38 am from Shanghai Pudong International Airport, the C919 passenger jet flew to Nantong in Jiangsu province, northwest of Shanghai, then flew back and landed at Pudong airport at 11:26 am.
On its third voyage, the jet's flight time increased from the initial 79 minutes duration of its debut flight, to 166 minutes for its second test flight, to 228 minutes this time, according to the Commercial Aircraft Corp of China Ltd, the manufacturer of the C919.
The aircraft maintained a flying altitude at around 10,000 feet during most of the flight, when it was circling around the sky above Nantong.
On Thursday evening, COMAC successfully finished the ignition test of its second C919 aircraft. The aircraft manufacturer said the second aircraft will undergo ground tests, and prepare for its taxi test and maiden test flight, which is likely to happen by the end of the year.
So far, the C919 has received 730 orders from 27 Chinese and overseas customers.
Lin Zhijie, an aviation industry analyst and columnist at Carnoc.com, China's leading civil aviation web portals, said the C919's entry to the market won't occur very soon, with an expected customer-delivery date at sometime from 2020 to 2022.
"The C919 aircraft still needs to constantly upgrade its performance and services, and find some market share in the global aviation market. For China's high-end manufacturing, the development of a large-scale airplane serves as a key index to assess a country's industrial and technical manufacturing capacity."
"Currently, China has its own military aircraft and small-scale commercial jets. The successful flying of large passenger aircraft indicates that we will be able to make a significant breakthrough."
Meanwhile, COMAC is currently undertaking research and development of a widebody aircraft, called the CR929, together with Russia's United Aircraft Corp, and the two sides have sent their R&D teams to each other's countries.