World Cup fever grips Chinese fans
Share - WeChat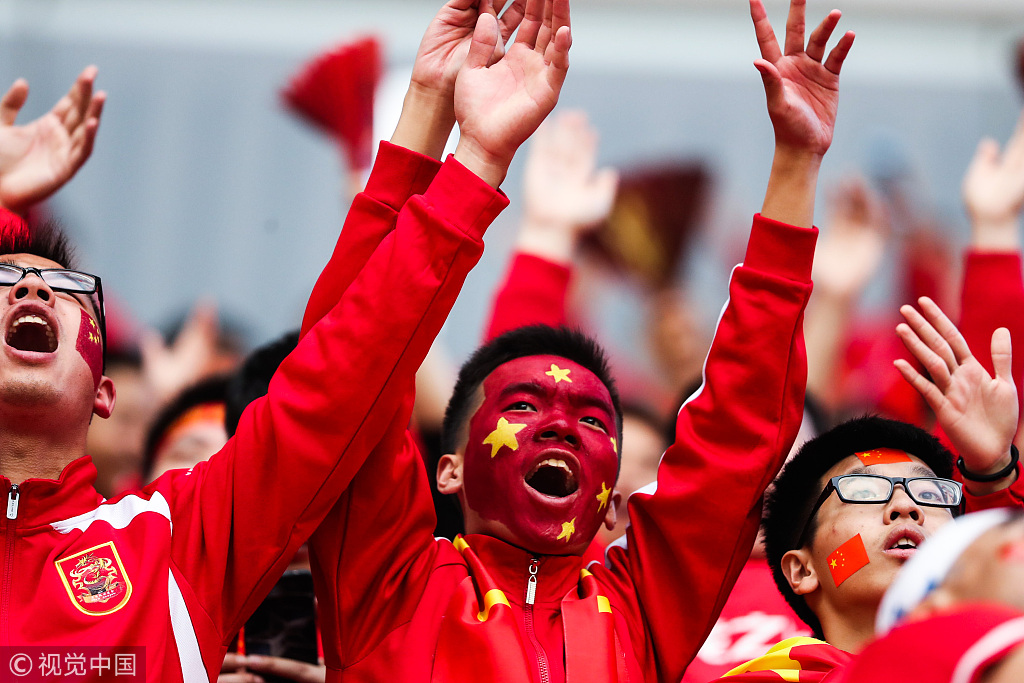 Ticket sales and commercial activity defying national team's absence
Despite Team China's absence, the 2018 FIFA World Cup is still generating huge interest from Chinese fans and sponsors alike.
With less than two months to go before the tournament kicks off on June 14 in Moscow, Russia is expecting an influx of around 100,000 Chinese fans to its 11 host cities this summer.
"Russia is ready to welcome all the Chinese fans and the tournament won't be short of Chinese elements," Alexander Kalinuk, press officer for the Russian Embassy in China, said at a media event hosted by home appliance-maker Hisense Group in Qingdao on Thursday.
China last year failed to qualify for the World Cup for a fourth consecutive time, however that disappointment has apparently barely dented enthusiasm for the finals here.
According to FIFA's website, about 39,700 tickets had been sold to Chinese buyers by April 19, placing China second on the sales list for non-participating countries. The United States, with sales of over 85,000, tops that chart.
Kalinuk was keen to remind Chinese fans to obtain their ticket-affiliated FAN IDs, which are required to gain entry to stadiums, before departing for the finals.
The identification document also provides ticket holders visa-free entry to Russia, as well as free travel between host cities and on local public transport on match days.
Meanwhile, many Chinese businesses are hoping to cash in on World Cup fever.
So far, five Chinese companies, including Qingdao-based Hisense, property-entertainment conglomerate Wanda Group and dairy producer Mengniu, have signed up with FIFA to become official sponsors of the tournament.
According to sports marketing firm Desports, the 2018 World Cup's exclusive sponsorship agency in Asia, more Chinese companies are set to become regional sponsors of the tournament in the third tier of FIFA's new commercial structure.
Hisense hopes that connecting its brand with the finals will enhance its appeal to overseas consumers.
"Sports marketing has been playing a pivotal role in our brand's globalization while the World Cup is the crown jewel of the platform. It helps domestic companies to expand abroad," said Zhu Shuqin, managing director of Hisense's branding division, on Thursday.
In April 2017, Hisense signed a reported $100 million contract with FIFA to become a second-tier sponsor of the 2018 World Cup, hoping to emulate the success of a similar deal for the UEFA Euro 2016 tournament, which resulted in a 65 percent second-quarter sales spike for the company in Europe that year.
Market-research agency Nielsen estimates that 831 million Chinese will follow the action at this summer's finals, while a recent survey of 15,330 Asian respondents showed that 55 percent of them would consider buying products and services from World Cup sponsors.
Those figures have made the tournament's third-tier regional sponsor slots appealing, even with marketing rights limited in the area.
Jiangsu-based e-bike manufacturer Yadea, for example, in February snapped up the first of FIFA's four regional-supporter slots to promote its products in soccer-mad Asian countries.
"There is massive potential in this market when you consider the audience size and we expect that number to be significantly higher for the World Cup," said Claude Ringuet, managing director of Nielsen's South East Asia& Greater China division.
Most Popular
Highlights
What's Hot