Most attractive Chinese cities for expats announced
Share - WeChat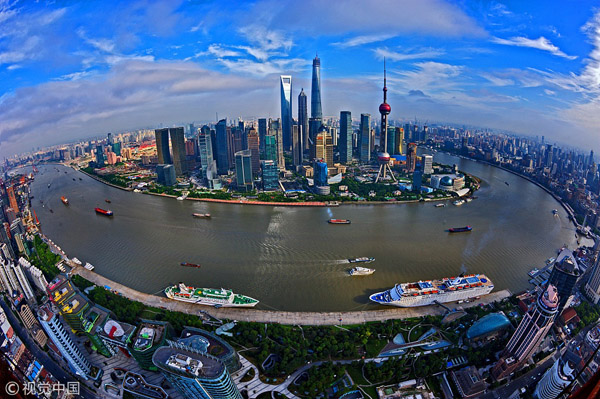 The results of the Amazing China 2017 poll, an annual survey for foreign expats to vote for their favorite Chinese cities, has been announced recently.
Shanghai was chosen as expats' favorite city to work and live in, for the sixth year in a row. Beijing, Hefei, Qingdao, Shenzhen, Hangzhou, Suzhou, Chengdu, Nanjing and Guangzhou followed on the list.
The survey, now in its eighth year, is the only one to use foreign experts as participants.
The Amazing China 2017 poll was conducted from November to February. Results were analysed from 4,066 signed votes from foreign experts in China and 25,494 votes from internet users.
Shanghai chosen as expats' favorite city sixth time in a row
Shanghai has been on top of the list since 2012. This year, Shanghai was selected as first in four indexes: policy, governmental environment, working and living conditions.
This may be attributed to local policies, as Shanghai has put great emphasis on attracting foreign talents. For more than a year, Shanghai has been implementing its talent development mechanism reform.
The effect of the reform is remarkable, with 215,000 foreigners now working in Shanghai, accounting for 23.7 percent of all foreign expats in China.
Dennis Raymond John Scott, a Chinese Friendship Award recipient who also is on the expert voting panel for this year's Amazing China poll, used to work for world class airplane manufacturers like Boeing, Airbus and Bombardier Inc. He is now working in Shanghai for the Commercial Aircraft Corporation of China.
"Choosing the Commercial Aircraft Corporation of China is a new challenge for me, I'll do whatever I can to provide the company with the most advanced idea and techniques," Scott said.
"I'm only up for Shanghai, which is very nice in both the working and living environment. The city is neat, safe and has very convenient public transportation systems," he said.
Most Popular