Buffon blows fuse in Real ref rage
Share - WeChat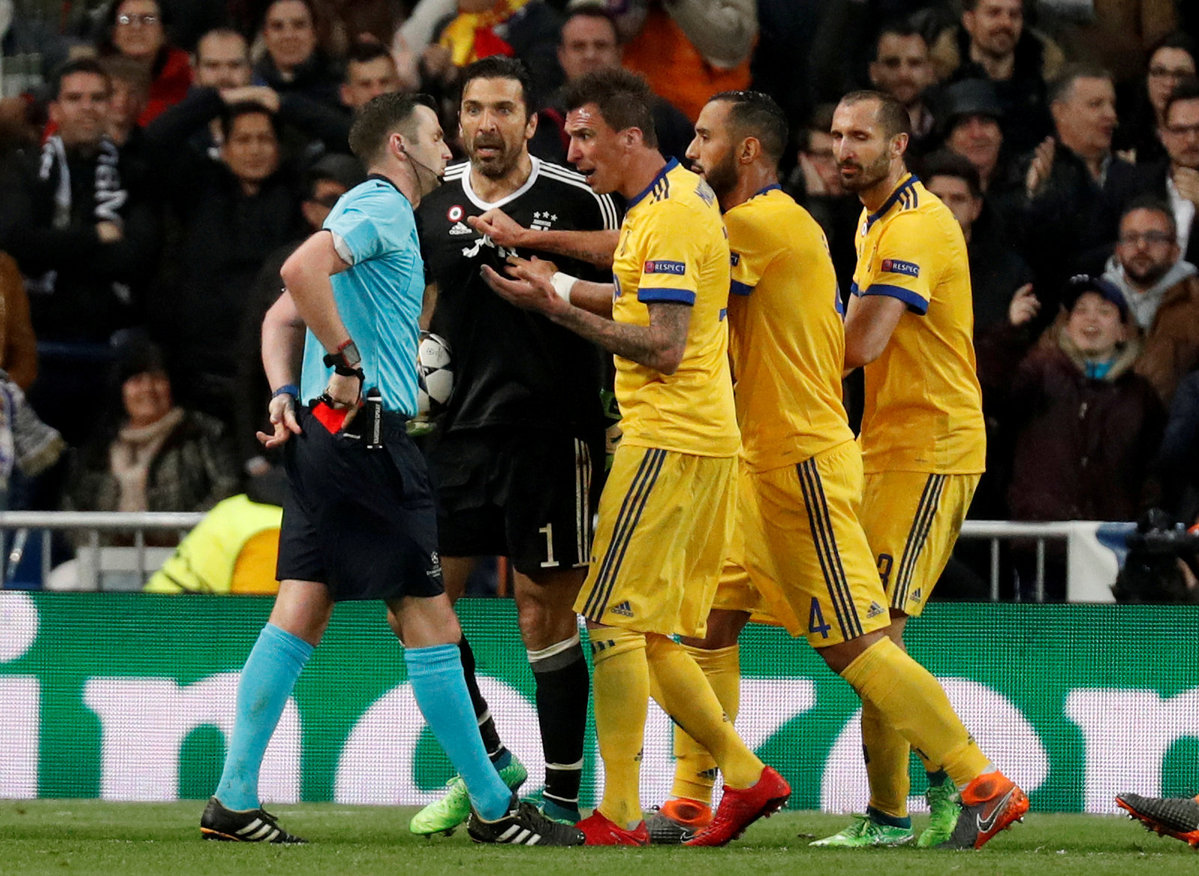 Juve veteran sent off in fury over penalty that could end CL career
MADRID-Gianluigi Buffon's Champions League career looks likely to end in a red mist of rage after Cristiano Ronaldo's late penalty on Wednesday rescued Real Madrid from a pulsating Juventus comeback.
Buffon's anger earned him a red card from English referee Michael Oliver, moments before Ronaldo slammed a 97th-minute penalty into the top corner to send Madrid into the semifinals.
Oliver's decision was not as poor as Buffon claimed. Mehdi Benatia's challenge on Lucas Vazquez, from behind, was a clumsy attempt to stop the Spaniard finishing from five yards.
But Juve had made the impossible possible, having wiped out a 3-0 deficit from the first leg, to lead by the same scoreline at Santiago Bernabeu.
Buffon, who has racked up 125 Champions League appearances but never won the competition, could not contain his frustration as Ronaldo's goal made the aggregate score 4-3.
"This referee has no heart, he has a garbage bag instead of a heart," Buffon told Italian channel Mediaset Premium after the match.
"If you do not have personality and courage, you should go to the stands to watch the match with your wife and a Sprite."
Buffon's red card could bring a bad-tempered end to a magnificent Champions League career, with the 40-year-old Italian expected to retire in the summer.
"The referee blew for a foul that only he saw," Buffon told beIN Sports. "Above all, for great matches at European level, we need big players, coaches, supporters and referees.
"There must be some sensitivity to understanding the importance of some moments and if you do not have this sensitivity to what's going on in the game, you're not worthy of being on the pitch.
"In this case, he should be in the stands with his parents, with his friends, with fries and Coca-Cola, and watch the game. You cannot do something like that."
Benatia controversially likened the penalty decision to being "raped".
"Honestly I've seen and played in matches-you can never whistle for a penalty like that in the 93rd minute," Benatia said.
"If there is contact it is with my thigh and that is part of football. There is never the intention to foul him or to push him."
Benatia added: "Last year they screwed Bayern Munich on two or three goals that were offside if I'm not mistaken.
"It's always the same story that repeats itself. It's a very big team Real, it's not for nothing that they have won so much, I don't think they need any extra help.
"Everyone knows that this match had to go into extra time and the best team would have won."