#MeToo strong after six months
Share - WeChat Legislatures are considering bills to address sexual harassment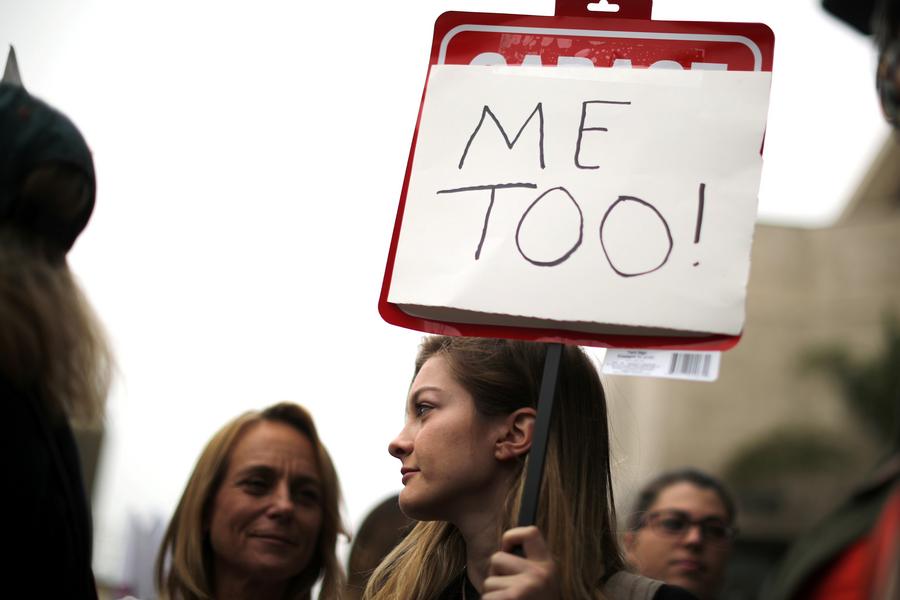 NEW YORK - Six months after bursting into the spotlight, the #MeToo movement has toppled scores of men from prominent positions and fueled a widespread conversation about workplace sexual harassment.
There is also ample evidence that the movement has some staying power that will make it a force six months from now and beyond as lawmakers across the US enact an array of anti-harassment legislation, corporate US roots out bad behavior in the workplace and more women feel emboldened to speak out.
And the movement has the potential to guide the conversation surrounding the midterm elections, as evidenced by the record number of women getting into politics in 2018.
"We are in the midst of a national reckoning concerning sexual harassment," Connecticut Senate President Martin Looney said as the state debated anti-harassment legislation, including a plan to eliminate the statute of limitations for sexual assault crimes. "Our constituents are in need of our protection."
The movement took shape in October 2017, when reports in The New York Times and The New Yorker gave voice to numerous women accusing Hollywood mogul Harvey Weinstein of sexual misconduct. Soon afterward, the #MeToo hashtag went viral, becoming worldwide shorthand for speaking out about sexual harassment.
Along with the steady stream of harassment cases involving other powerful men, there has been extensive activity in statehouses across the country. More than a dozen legislatures are considering bills that address sexual harassment in workplaces statewide; an even larger number are addressing harassment affecting officeholders, staff and lobbyists at the statehouses.
#MeToo activists believe the legislatures' collective efforts will produce lasting change. They also believe #MeToo has provided new awareness and resources for women experiencing harassment in the workplace.
The Times Up Legal Defense Fund was launched in January by the National Women's Law Center with the aim of providing attorneys for victimized women, notably those in low-wage jobs who couldn't afford a lawyer on their own.
Fatima Goss Graves, the law center's CEO, says more than 500 attorneys have signed up, and complaints have been fielded from more than 2,300 people. The fund underwriting the program totals $21 million, provided by about 20,000 donors.
Others are skeptical about the movement bringing about real change.
"Mostly, I've seen a lot of talk and gnashing of teeth but not much change," said Donna Ballman, an employment lawyer in Florida. "Women continue to be disbelieved unless they can find others to back them up. Women continue to be retaliated against with damaging transfers, ostracism, and worse."
And despite the widespread action at the state level, anti-harassment efforts have suffered some setbacks. In Florida, the House and Senate approved different measures to address the problem, and ended the session without agreement on a bill.
Assessing #MeToo's longterm legacy, activists cite its role in raising awareness of other workplace problems, beyond harassment, that women face.
Kristin Rowe-Finkbeiner of MomsRising noted two recent developments: Washington state passing a bill promoting gender-equal pay and Starbucks announcing it had attained 100 percent gender pay equity for its US employees. Starbucks cited data indicating women in retail jobs are paid 70 cents on the dollar compared to men.
"All these issues are interconnected," Rowe-Finkbeiner said. "The #MeToo movement has blown the door open for women to come forward."
Associated Press