China tech shines at SXSW
Share - WeChat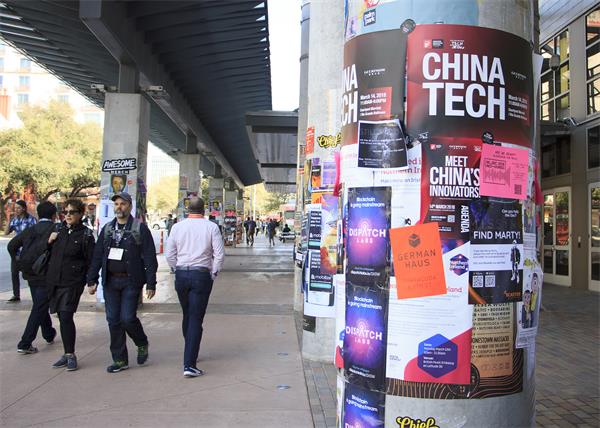 A flying car certainly got some attention at SXSW 2018.
"It feels so futuristic," a member of the audience commented after Derrick Xiong, co-founder and chief marketing officer of Ehang, finishing presenting the company's latest development.
Ehang, a Guangzhou-based company specializing in automated flying, was founded in 2014 and has been developing passenger drones in earnest ever since. Dubbed an autonomous aerial vehicle (AAV), the Ehang 184 represents the company's most advanced technology.
"The traffic system we have right now is all 2-D and we have all been caught in traffic jams. The only way out is the sky, and Ehang 184 is the answer," said Xiong.
Ehang 184 is designed with fail-safe redundancy — eight propellers and four arms — to ensure safety, Xiong said. The company has extensively tested Ehang 184 in deserts, densely populated cities, in rain, in fog and in force 7 typhoons, more than 1,000 times.
Recently it completed more than 40 flight tests with passengers onboard.
"Vice-mayors of Guangzhou and Xi'an flew in an Ehang 184. Some of our investors flew in it. That's me in the drone," Xiong said pointed to the video playing on the screen.
The image of Xiong riding in the Ehang 184 was selected as one of the sharpest science images in February by Nature, along with pictures of the take-off and landing of Space X's Falcon Heavy rocket.
With a top speed of 130 kilometers/hour, Ehang 184's longest tested range is 8.8 km with a designed range of 30 km. The flying car is remotely controlled just like smaller drones and flies one person at a time.
Xiong said the biggest challenge the company faces is not technology or regulations but people's mindset.
"People fear for their safety. People don't feel comfortable flying in this," he said, adding that to allay those fears, all of the executives in the company will commute in an Ehang 184 every day.
"If you still find us alive in three years, you probably will feel much more comfortable," he said.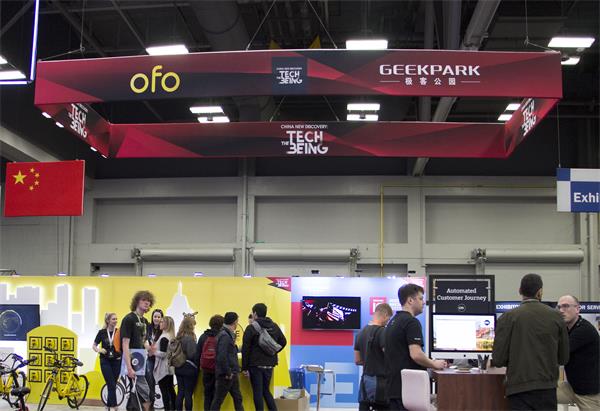 Xiong said the company was ready to release a new product later this year: a drone for two. He also announced that the company will soon begin a global demo tour to attract investors.
"We believe in the future which is coming very soon. We want to work together with others," Xiong said.
China's flying car is not the only thing that caught people's attention at SXSW. In a discussion about Mobike's business model, Chris Martin, vice-president of global expansion, faced an audience eager to learn the secrets of the "share" business.
Martin presented the big picture of Mobike: in the two years since it launched in 2016, it raised $1 billion, reached 200 million users, owns 8 million bikes in 230 cities in 17 countries and conducts about 30 million transactions a day.
"I flew in from Santiago, Chile this morning," Martin said. "Thousands of people riding Mobike bikes in the central financial district of Santiago — it's an amazing sight."
The secret of the share economy is using a fixed amount of assets to serve lots of consumers to maximize use of one durable product, Martin explained. In Mobike's case, one bike gets used by five to 10 people a day.
It's important to develop a computer algorithm to run the system efficiently.
"Efficiency is what makes share economy profitable," Martin said.
Share economy can help change culture too, Martin said.
"Singapore was launched in May last year. It is super humid, rich, got a great metro system, Uber is everywhere, and roads don't get too clogged up. It didn't seem likely. Now we get several hundred rides a day, the culture changed visibly," Martin said
Martin experienced the change first hand. Living in Shanghai, he changed jobs when Mobike started to come out. Originally he was planning to move to accommodate his job change, but soon he realized that with Mobike, he didn't have to.
"It took about 25 minutes to commute [by bicycle]. Soon on weekends I found myself going to coffee shops and restaurants on a bike. After a couple of months, I gained this larger feeling of being outside all the time, moving all the time, and it showed the distance I traveled and calories burned," Martin said.
How can the model be used for something else? someone in the audience asked.
Find something that people use often but not all the time. Maybe umbrella share in large cities in tropical areas where sudden showers often occur? Martin suggested.
China was being discussed by more than just Chinese. Bay McLaughlin, co-founder of Brinc, told people at SXSW: "The Greater Bay is in China, not Silicon Valley."
McLaughlin had spent 10 years in the Bay Area with eight years at Apple. Four years ago he moved to Hong Kong.
McLaughlin introduced China's Guangdong-Hong Kong-Macao Bay Area: 11 cities in the Pearl River Delta region including Guangzhou, Shenzhen, Zhuhai and Huizhou.
China's bay area represents 67 million people with $1.4 trillion GDP a year, McLaughlin said.
When the bullet train system under construction is completed in a couple of years, the commute between the cities will be shortened to less than an hour.
The hyper connected region forms a super cluster, with each city focusing on a major area: Hong Kong on fintech, Shenzhen on electronics and IoT, Guangzhou on auto and fashion and Tech and Macau on gaming and virtual reality.
"China has made the structure to make this super cluster work for a long time. The government provides grants and incentives to people who want to be part of it. It's where the convergence comes. When you have that many people working toward the same direction, it will be big," said McLaughlin.
While the greater bay will have more impact on people in the next two or three years, China's Belt Road Initiative makes the greater bay look like nothing, McLauglin said.
"This system is the modern version of the Silk Road. Already 68 countries have signed up which represents 65 percent of the entire world population and 40 percent of the world's GDP. When China goes big they go massive, there is nothing in history like this," he told the crowd. "This is the China century; we are just living in it."
Zhang Peng, founder and CEO of China's GeekPark, said that more and more Chinese tech companies are capable of developing their own core technologies and have the ability to expand globally.
Beijing-based GeekPark is one of China's largest internet and technology innovation platforms. For the second year, the company organized Chinese companies to exhibit at SXSW.
Other Chinese companies were there. Alibaba's senior director Paul Fu discussed the company's two successful shopping festivals. He said the company plans to make future shopping more personally tailored and there was much room to grow in that area.
Leung Shanying, design director of Ant Financial, a subsidiary of Alibaba, showed how Alipay helps to break the barrier of international borders, revolutionize retail sales and give people equal access of payment.
Zou Xiaowu, CEO of Yeahmobi, China's leading mobile marketing platform, presented China's important role in mobile apps in the global market — about 60,000 apps are from China.
Nikita Huang, marketing manager at DataMesh, discussed how to mix big data with reality in real time to produce interactive video programs such as creating a fire-breathing dragon or dancing with a virtual avatar. The company enthralled the visitors with its interactive program at the SXSW trade show.
Overall, more than 60 Chinese companies attended SXSW this year, a big jump from last year's 15.
Hugh Forrest, chief program officer at SXSW, said that there is more advanced usage in mobile technology in China than in the US, and it's a big value to have Chinese companies present their stories at SXSW.
For SXSW 2019, Forrest said that he hoped to see more hardware companies from China next year on top of the innovative ideas from the mobile sector. "We will continue to build that bridge from Austin to Beijing and China," he said.
Contact the writer at mayzhou@chinadailyusa.com.