Fonterra posts loss on China write-down, CEO to go
Share - WeChat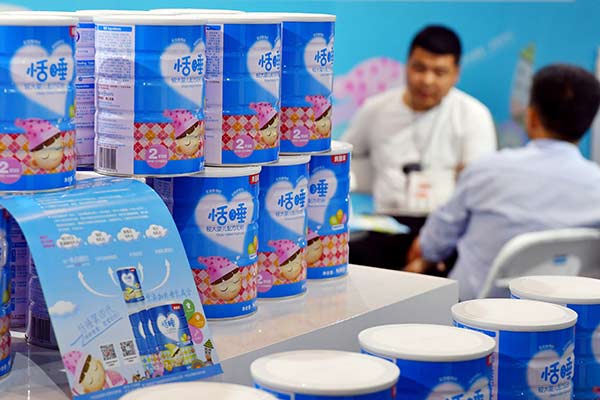 WELLINGTON-New Zealand dairy giant Fonterra slumped to a first-half loss on Wednesday after massive write-downs on its China business, and announced longtime chief executive Theo Spierings' departure.
Fonterra posted a net loss of NZ$348 million ($250 million) for the six months to Jan 31, down from a NZ$418 million profit in the same period a year earlier.
It blamed the downturn on a NZ$405 million write-down in the value of its stake in Chinese baby food firm Beingmate and costs arising from a 2013 contamination scare.
Fonterra was ordered late last year to pay Danone NZ$183 million in damages over the 2013 incident, when fears of contamination in Fonterra-supplied ingredients forced the French company into global baby formula recalls.
Chairman John Wilson acknowledged shareholders would be "rightfully disappointed" with some of the figures, but pointed to Fonterra's overall performance.
He said that when one-off costs were stripped out Fonterra recorded a net profit of NZ$248 million, down 36 percent year-on-year.
Wilson also said work was under way to improve the performance of Hangzhou-based Beingmate Group, which Fonterra bought in 2014 in the hope of tapping into burgeoning Chinese demand for baby formula.
"Beingmate's continued under-performance is unacceptable," he said, with the Chinese company struggling amid fierce competition.
"The opportunity in the Chinese infant formula market remains, as does the potential for our Beingmate partnership-but an immediate business transformation is needed for Beingmate."
Fonterra also announced Spierings would leave later this year.
Fonterra's investment in Beingmate has been considered by some Chinese analysts as a failed case.
"The investment was at Beingmate's peak time, but the Chinese infant formula producer has since been on the decline," said Song Liang, an independent dairy analyst.
But Fonterra's recent moves in China have been accurate in marketing, Song added.
"For example, Fonterra has been collaborating with Alibaba's Hema Fresh to sell fresh pasteurized milk. It also supplies raw milk to leading Australia baby and infant formula brand A2, which has been very popular in China," he said.
Agencies-China Daily