China, Philippines reach 'golden era'
Share - WeChat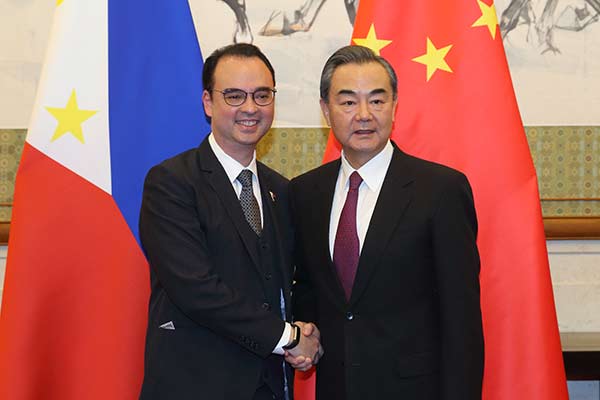 China-Philippines ties are in the best shape they've ever been, and Philippine President Rodrigo Duterte will visit China in April to attend the Boao Forum for Asia's annual conference, State Councilor and Foreign Minister Wang Yi said.
China welcomes Duterte's upcoming trip, and it will further promote the development of ties, Wang said in a joint news conference on Wednesday with visiting Philippine Foreign Secretary Alan Peter Cayetano following their talk.
Cayetano arrived Wednesday and will remain in China through Sunday. He is the first foreign minister to visit since the new lineup of China's central government took office.
Wang told reporters the two sides agreed on Wednesday to boost dialogue and cooperation on maritime affairs and advance cooperation in areas such as the exploitation of oil and gas.
Regarding cooperation with the Belt and Road Initiative, Wang said Beijing is willing to work more with Manila and boost the synergy in their development strategies to better benefit their people.
The two neighbors will convert negative momentum of South China Sea disputes into a positive force that boosts relations, Wang said.
Cayetano said the relations are in a "golden era", his talk with Wang on Wednesday was productive and the great dialogue between the two sides should be furthered.
Despite their differences, the two countries will advance their cooperation in areas including security, he said.
In August, the Philippines will take the chair of the coordinating country moderating ties between China and the Association of Southeast Asian Nations.
China will work with the Philippine government to ensure the success of a number of events, such as the commemoration of the 15th anniversary of China-ASEAN strategic partnership, Wang said.
China is now the Philippines' largest trade partner, largest source of imports and its fourth-largest export destination.
As part of the frequent high level exchanges between Beijing and Manila, President Xi Jinping and Duterte met twice last year.
Bilateral trade reached $51.2 billion last year, a year-on-year increase of 8.5 percent.
China has become the Philippines' second-largest source of foreign visitors, and close to 1 million trips were made by Chinese to the country last year.
Zhao Jianhua, Chinese ambassador to the Philippines, told China News Service earlier this month that the two countries are pushing for cooperation on more programs and it is believed that more cooperative projects will be initiated this year.
This will serve as a bigger impetus facilitating Philippine economic development and public livelihoods, Zhao said.