Tencent net profit up 74% in 2017
Share - WeChat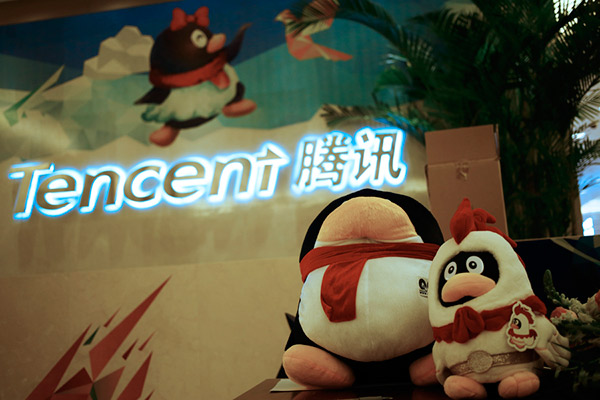 BEIJING - Chinese tech giant Tencent said Wednesday that its profit attributable to shareholders surged 74 percent last year thanks to "solid growth" across its core businesses.
The company's profits attributable to shareholders stood at 71.5 billion yuan (about $10.9 billion) in 2017, according to a report on its website.
"We continued to achieve solid growth across core business segments," the company said, mentioning steady growth in online games, digital content, advertising, payment and cloud services.
Total revenue rose 56 percent to 237.76 billion yuan last year.
Revenue from PC games rose 13 percent to 12.8 billion yuan, while that from smartphone games rose 59 percent to 16.9 billion yuan. Online advertising revenue surged 49 percent.
Total fee-based value-added service subscribers grew by 22 percent year on year to 135 million, primarily driven by video and music streaming services, the company said.
"In 2017, Tencent made important strategic moves that reinforced our leadership," said Ma Huateng, chairman and CEO of Tencent, citing the company's leading position in video services, which had the most mobile daily active users and monthly subscriptions.
"Looking forward, we are substantially increasing our investment in areas including video, payment, cloud, AI technology and smart retail, which will impact our near term earnings but which we believe can generate long term value and growth opportunities," Ma said.
Monthly active user accounts of instant messaging product QQ was 783 million last year, down 9.8 percent from a year earlier. Combined monthly active user accounts of Weixin and WeChat were 989 million, up 11.2 percent.
On Wednesday, the company's Hong Kong-listed shares dropped 0.86 percent. Its market value stood at HK$4.39 trillion (about $560 billion), higher than about $488 billion for Facebook.