30,000 porters to clean 'highest junkyard'
Share - WeChat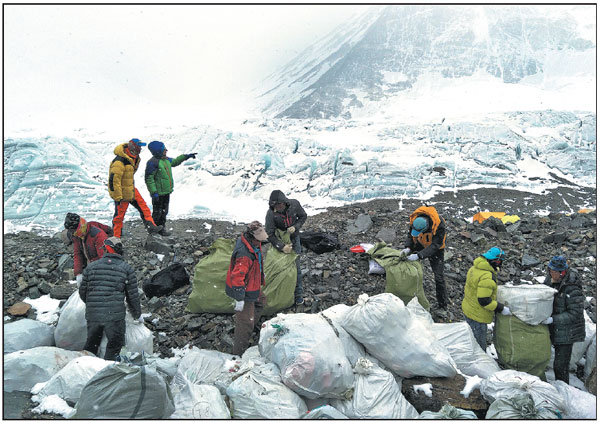 LUKLA, Nepal - Qomolangma, known as Mount Everest in the West, once negatively recognized as the "world's highest junkyard", is set to become cleaner as 30,000 porters have been mobilized for waste collection and disposal from the mountain's southern side.
The cleanup drive was launched recently near Lukla airport, one of the world's most dangerous airports yet a vital gateway to the world's highest peak.
"Our major task is to keep Everest, which is the pride of the world, clean. This campaign aims to transport 100 tons of nonburnable garbage from the Everest region to Kathmandu in 2018," Ang Dorje Sherpa, chairman of the Sagarmatha Pollution Control Committee said.
The SPCC, an environmental conservation organization, has made it mandatory since 2013 that every climber should carry down 8 kilograms of trash, but for trekkers there is no such regulation. Due to this, more than 100 tons of waste gets collected in the region annually.
According to Nepalese government statistics, nearly 50,000 domestic and foreign trekkers visit the Qomolangma region annually, while more than 400 mountaineers attempt to scale the peak.
The collected waste mostly includes empty beer bottles and cans, oxygen bottles, torn tents and sleeping bags, food bins, and discarded mountaineering and trekking equipment.
The trash was collected by local groups in more than a dozen villages while the waste was transported down the mountain in sacks by porters and yak-hybrid animals known as zopkyos. The cleanup covered settlements from up to 5,000 meters near the base camp, to Lukla airport located at an altitude of 2,805 meters.
Having small waste disposable bins along the trail, burnable and biodegradable waste was disposed off at incinerators at locations in the region. And only the nonburnable and non-biodegradable waste was brought down to Lukla.
On the first day of the campaign, several tons of waste was sent off to Kathmandu from Lukla on planes belonging to Tara Airlines, a subsidiary of Yeti Airlines, one of the leading private airlines in Nepal.
The airlines have set an ambitious target of flying out 100 tons of waste from the region in 2018, as a part of its commitment to the UN Sustainable Development Goals against climate change.
The company's CEO Umesh Chandra Rai said: "We hope that this campaign will help the local people to maintain a pristine, natural and unspoiled environment so that more trekkers will come from everywhere, making the trekking industry here more sustainable."
Xinhua