A more profound way to clean the home
Share - WeChat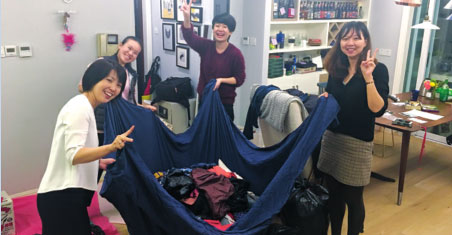 The lifestyle salon organized by US tech company iRobot was supposed to be about how artificial intelligence (AI) could help free homeowners from domestic chores.
But the two Japanese guest speakers in attendance were talking about something that even the most intelligent of robots are still not able to do-declutter.
During the two-hour workshop in Shanghai, Ikeda Emi and Katsumi Hirosawa, both of whom have been working in China for more than a decade, dispensed decluttering tips such as how people can organize their cables and wires and recycle yogurt cups to achieve a more organized home.
"Artificial intelligence is not an enemy to us professional home organizers. On the contrary, robots are able to perform the repetitive tasks, giving us more time and energy to take on the job of decluttering," said Emi, whose consultancy in Shanghai has been offering home organizing services to households and corporates in China since 2004.
Kelly Zhang, general manager of iRobot China, said that her team chose home organization as the theme of the inaugural lifestyle salon because they noticed that the demographics of those interested in home organization are similar to the target customers of iRobot-well-heeled urbanites who can afford to spend up to 3,000 yuan ($461) on a robotic vacuum cleaner.
The Japanese are well-known to be experts in decluttering, and there is perhaps no one more prominent in this field than Marie Kondo, whose international best-seller The Life-Changing Magic of Tidying Up: The Japanese Art of Decluttering and Organizing has taken the world by storm. Over 7 million copies of the book has been sold since it was published in 2011. It has also been translated from Japanese into dozens of languages.
In China, Zhou Yiyan, the founder of No 1 Organizing Platform, a WeChat account about home organization, is one of the most popular home organizers. Zhou's account is followed by more than 200,000 people. Some of her sponsors include household appliance companies like iRobot, furniture giant IKEA and real estate developers.
"The act of decluttering explores the relationship between human and objects. It disrupts the emotional bond between the owner and his possessions. Such a disruption can only be done by a third party, a professional who is well-versed in the art of discarding," explained Zhou.
"A robot or AI cannot help to decide which pair of jeans you should keep as a motivation for you to lose weight and fit into it again one day. Professional home organizers are like marriage consultants and psychologists. When people decide to have their home organized, the problem is usually not just the mess in the physical space. More often, there is also a deeper psychological disorder that needs to be fixed," she added.
Most Popular