Best of the bunch
Share - WeChat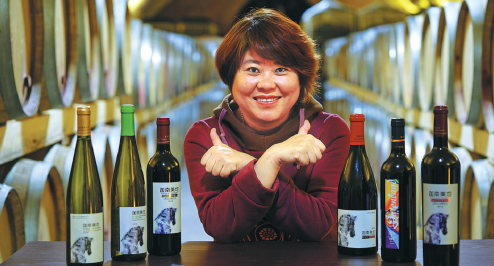 A new wave of premium wine producers from across China are rising to the fore as the market demands more quality. Jim Boyce picks his favorite five from the crop. Jim Boyce
Sometimes it's difficult to translate success into sales. Take the new wave of quality-focused wineries across China. They have earned a cellar full of trophies, medals and accolades at home and abroad over the past half-dozen years-but making that achievement profitable is proving more difficult.
For one thing, many consumers associate local wines with a few big brands that have placed marketing over quality. For another, these consumers have access to a sea of inexpensive easy-to-buy imports. On top of that, the best local wines tend to be pricey and hard to find.
While this situation is far from inspiring, the good news is that an increasing number of tasty local wines are finding their way into consumers' glasses. Here are five wineries that have national distribution network, and are regularly listed by sites like JD and Taobao, and top restaurants, bars and hotels-with their typical retail prices attached.
Grace Vineyard, an oasis in rural Shanxi province, is widely deemed the wine industry's success story of the century. China has seen many "one-hit wonder" wineries but CEO Judy Chan has made Grace a symbol of consistency and freshness for the past 15 years. While the general wine industry tends to concentrate on cabernet sauvignon, Grace also uses grapes like marselan and aglianico. And while many premium producers price their wines at 250 yuan ($39) or more, Grace has several entry-level options from 70 yuan.
The most intriguing Grace wines are from the Tasya Reserve series, including the full-bodied and supple cabernet franc and elegant marselan (both 190 yuan). Also impressive are Grace's four sparkling wines (from 158 yuan), including the sparkling Angelina 2009 Brut Reserve (288 yuan), named after Chan's daughter. It was so good, in fact, it wowed visitors from France's most venerated wine region, Champagne. Grace's national distribution partner is ASC Fine Wines.
Most Popular