Seaside pleasure
Share - WeChat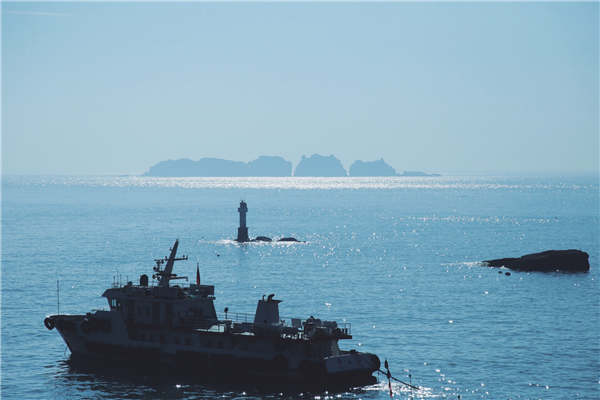 Dongji, a town in eastern China, is the perfect place to unwind for a few days. Xing Wen writes.
I was standing on the foredeck of a boat, witnessing the turbid sea on which sunlight shimmered. The boat had left Zhoushan's Shenjiamen port an hour or so ago.
I was heading to Dongfushan, a small island under the administration of Dongji town, located to the east of the Zhoushan archipelago, which is part of East China's Zhejiang province.
Dongji translates to "east pole", which explains why the town is mistaken by some tourists to be China's easternmost island.
As the boat got closer to the town, the secluded island looked like a hill on the sea. There were some islets in view, too.
After a two-and-half-hour cruise, the boat slowed down and prepared to dock. I saw rows of dilapidated houses line the waterfront. The gray houses were partially covered in moss.
Several blue-and-red trawlers were anchored to a large platform protruding from the island. The platform is the so-called quay of Dongfushan.
I stepped on land, followed by a group of elders who were on the boat with me. They told me the island, with a coastline of nearly 10 kilometers, was a wonderful place for hiking. So, we set out to look around the island after lunch in a village. I walked along a stone path on both side of which clusters of Chinese miscanthus flower swayed in the sea breeze.
I looked down to the left, waves lashed against the rocky shoreline, sending up fountains of water. By the seashore were pebbles of various sizes and shapes.
As we walked further, I saw to my right, ruins of abandoned dwellings with creepers on the walls, functioning windmills, cacti burgeoning through crevices in rocks, gloomy caves that we dare not to enter and goats grazing on the hillside.