For old time's sake
Share - WeChat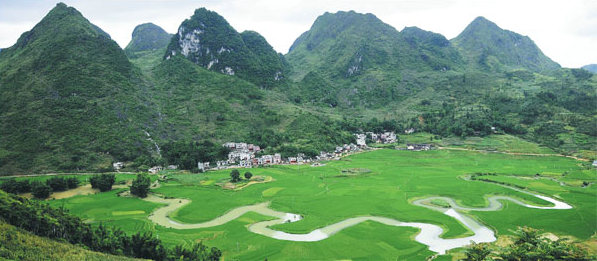 Bama county in the Guangxi Zhuang autonomous region enjoys an enviable reputation as the home of longevity
Although it has been questioned whether the Japanese health organization that bestowed on Bama the title of "The Hometown of Longevity" in 1991 actually had the legitimacy to do so, there is no denying the county in the Guangxi Zhuang autonomous region has a high proportion of centenarians.
With 300,000 residents in total, the county has around 100 centenarians, nearly five times the United Nation's standard for a place of longevity, which is 7.5 per 100,000.
More important, the popula-tion in Bama over the age of 90 has been rising steadily, since the longevity of its residents first caught the attention of domestic researchers in the 1960s. Accord-ing to the county government, by the end of last year, Bama had nearly 800 people over 90 years old.
Many organizations from home and abroad have conduct-ed field researches in Bama since the 1990s, concluding the air is rich in negative oxygen ions, the soil and water contain healthy microelements and there is a strong geomagnetic field, all of which are good for health.
These inherent characteristics have turned Bama into a magnet for visiting senior citizens across the country. They flock to the county hoping to cure their high blood pressure, diabetes and asth-ma. There are even some with can-cer for whom the magical powers of Bama are a last ray of hope.