Colder weather perks up winter sales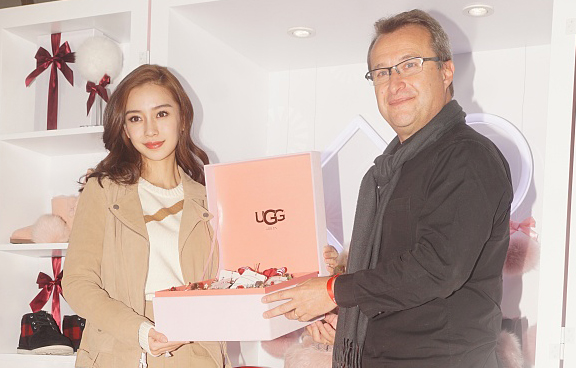 This winter's colder weather and strong snow have contributed to the strong Chinese sales of UGG boots, boosting its parent company's financial results.
According to financial results for the third fiscal quarter ended Dec 31, 2017, of Deckers Brands, which designs, markets and distributes footwear, apparel and accessories, net sales increased to $810.5 million, up 6.6 percent from the $760.3 million for the same period last year.
Operating income was $193.2 million compared to $53.3 million for the same period last year.
UGG brand net sales for the third quarter increased 4.3 percent to $734.7 million compared to $704 million for the same period last year.
"We saw success in China due to increases in brand awareness and growing consumer demand following our first holiday season with our brand influencer, youth icon Angelababy Yang," a Chinese celebrity model and actress, said Dave Powers, president and chief executive officer.
Revenue in China increased 10 percent from October to December, and the company's overall performance and growth are very positive, according to Olivier Lorans, Deckers China's vice-president and general manager.
But Lorans does not consider cold weather as the key reason for the growth. He primarily credits the company's storytelling abilities-particularly its store displays and its efforts to communicate with younger consumers. Its new Pompom collection launched in September, which sold out quickly.
"We believe that the increase in sales is natural and we are expecting higher growth in the future," he said.
The China unit, which operates 150 outlets, opened its first concept store on Sept 23 at a signature shopping center in Beijing; the unit plans to open 45 more concept stores in the future. That kind of ambitious strategy stems from fast growth-15 percent last year-in the country.
"We expect (growth) to reach 20 percent this year," Lorans said of 2018.
Lorans plans to grow UGG into a four-season lifestyle brand through measures including rejuvenating the men's category and fast-tracking the children's range-particularly its mini-me collection-as well as leveraging the fan base on social media. The company is looking for a male celebrity as well to create some buzz in the men's category.
For Deckers, the United States remains its No 1 market and China accounts for 10 percent of its global sales revenue. "I'm expecting it to increase to 25 percent in the near future," Lorans said.
Powers said last year that the group has made efforts in preserving the UGG Classic's franchise with a focus on core brand positioning, reaching a younger consumer with existing and new distribution, growing the men's business with an improved and focused product line, and creating compelling and segmented year-round offerings.
"The third quarter is an indication that those efforts are paying off as we successfully executed on delivering seasonal, relevant product from UGG with standout items, such as innovative winter and waterproof boots, slippers, the Classic Mini and the new men's styles," he said.
Powers said their "refined product strategies, enhanced consumer messaging and wholesale account optimization efforts resulted in much stronger full price selling for its brand portfolio during the key holiday season.
"While more favorable weather also contributed to our year-over-year improvement, hard work by the entire organization enabled us to capitalize on additional upside opportunities," the CEO said.
Deckers now expects fiscal year 2018 results to produce net sales in the range of $1.873 billion to $1.878 billion. The gross margin is expected to be about 49 percent.