Sure-footed brand woos youth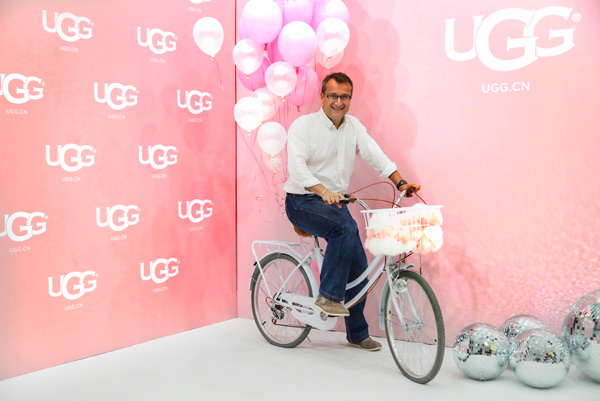 Olivier Lorans, vice-president and general manager of Deckers Brands. [Photo provided to China Daily]
Olivier Lorans leads footwear label UGG's efforts to bring affordable luxury to China's millennials
For UGG, a youth-oriented footwear brand from California, the China market is the new holy grail.
The parent company Deckers Brands is much enthused by the growth potential in China.
So much so that no sooner had its China unit, which operates 150 outlets, opened its first-ever concept store on Sept 23 at a signature shopping center in Beijing than its vice-president and general manager, Olivier Lorans, announced: "We're planning to open 45 more concept stores in the future."
That kind of ambitious strategy stems from "very fast" growth-15 percent last year-in the country.
"We expect (growth) to reach 17 percent this year, and hopefully 20 percent next year," said Lorans, a native of France.
For Deckers, the United States remains its No 1 market though. The designer, marketer and distributor of UGG trendy footwear, apparel and accessories saw global sales fall by 4.8 percent to $1.45 billion last fiscal to March 31.
China accounts for 10 percent of its global sales revenue. "I'm expecting it to increase to 25 percent (in the near future)," Lorans said.
Deckers will chase sales growth through a plan to double the number of existing stores across tier 1, tier 2 and tier 3 cities in three years.
Besides boosting store count, UGG will adopt a plethora of strategies in China to woo its target consumer group.
Lorans is leading the effort to reposition UGG as an affordable luxury brand in China. "We want to bring this authentic, high-quality feel to Chinese youth, and give them a premium cool brand."
The planned concept stores will allow consumers to "feel" the brand and "experience" the Californian lifestyle.
"I think the future of (brick-and-mortar) stores is all about consumer experience, because online shopping is so convenient and easy; so, stores need to change," said Lorans.
To relate to young consumers, UGG has roped in youth icon Angelababy Yang, a Chinese celebrity model and an actress, as brand ambassador. Lorans calls her "our new face in China".
The decision to associate with Yang came after UGG reaped success in South Korea through similar brand endorsements, said Lorans.
"We want to make the (UGG) brand cool, and allow consumers to customize it. For example, the company will be inviting our consumers to design their own boots as young people want to express themselves. And then they can show it to their friends, to spread the news. The key is engagement," said Lorans.
"With Angelababy's support, we'll connect with young consumers easily as she is popular in Asia. We'll make limited-edition footwear collections to engage with young consumers."
Lorans admits UGG needs to energize its online strategy a bit in China. Although it has online presence via Tmall, JD, Yoho and its own website, Deckers is aware it needs to tell stories "to attract consumers and keep them excited about the brand", he said.
"We are still working to tell our story online. I think our mission is to make consumers passionate about us and talk about us, to share UGG with their friends. This is the new way in terms of marketing strategy.
"It's not traditional marketing anymore. We want consumers to take pleasure when shopping and be excited about our brand. We need to make consumers our brand ambassadors. We'll use engagement, limited-edition products and special-edition products to communicate with our consumers."
Lorans worked and lived in Africa for 10 years before returning to France to pursue an MBA in international business with the European Superior Institute of Gestion.
For more than 25 years, he worked with many multinational companies that own brands such as Mars, Adidas, New Balance and Puma.
Prior to joining Deckers, Loran capitalized on his Europe experience to take on new challenges in Asia.
For instance, as general manager of Puma in South Korea, he brought about a turnaround in the local business unit's fortunes using strategies like local sourcing, solutions development and celebrity partnerships.
He isn't apologetic about his intention to use all that experience to crack the China market wide open for UGG. But he does apologize at the first opportunity for speaking English "with a French accent".