BOC harnesses high-tech
Share - WeChat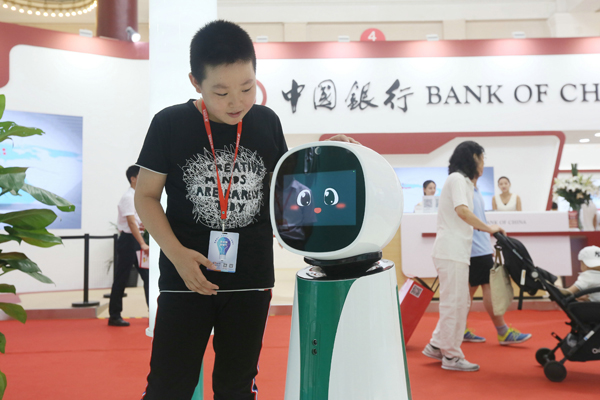 State-backed lender upgrading app, systems to stay ahead of the curve
Bank of China Ltd-China's fourth-largest State-owned commercial lender by assets-is exploring smarter ways to allocate financial resources, improve efficiency and control risks by using artificial intelligence and big data technologies.
"Among all kinds of financial technologies, we care most about those promoting intelligentization, which will help us allocate financial resources more precisely," said Yan Dawei, deputy general manager of the BOC's e-finance department.
The new version of its mobile app released on Tuesday introduced a real-time risk monitoring and control system.
Through its partnership with Chinese internet giant Tencent Holdings Ltd, BOC has developed a risk analysis model based on data the bank collects from its clients, using technology provided by Tencent Cloud.
"The system will improve the safety of online and mobile banking transactions for our clients. It will also eliminate any sense of inconvenience during the transaction process, by removing the need to enter a verification code for certain transactions," said Zuo Juexi, a risk management administrator at BOC.
On Feb 1, the system issued fraud risk alerts on 5,408 transactions, flagging 0.107 percent of the 5,054,265 transactions cleared on the BOC's online and mobile banking platforms that day.
In addition to enhancing risk management, with the new mobile banking app the bank also allows its clients to open a mobile banking account and link a debit card to that account via facial recognition identification.
"Mobile banking has become a major battlefield that each bank is entering with massive force. It is also a key arena for the application of new technologies," said Yan of the BOC's e-finance department.
According to Yan, after several years of development, mobile banking has now reached the integration stage. Clients want to know their overall capital earnings and the risks associated with their investments, he explained. What they need is integrated financial solutions, rather than a range of different products, which requires a bank to offer customer-centric services on its mobile banking platform by integrating its products, information and workflow, he said.
In the meantime, there is a trend of commercial banks cooperating with internet and fintech companies to introduce business scenarios for consumption, payment, borrowing and investment on their own platforms, Yan added.
In addition to its partnership with Tencent, BOC is also working with leading Chinese search engine Baidu to deliver more useful answers to netizens' questions about the bank. Next, the bank will embed services, such as online reservations to exchange money, reinforcing an edge over its peers.
Some of the bank's other plans include facilitating crossborder QR code payments in Hong Kong after the Lunar New Year celebrations starting Feb 16, and later expanding the service to Macao and Singapore. It will also launch an online robo-advisory product, which is still in the trial phase among client managers, said Yan.
Starting from 2017, banks have strengthened their efforts to develop their consumer loan products. As the pricing of consumer loans is usually based on personal credit rather than collaterals, banks must have a strong risk pricing ability, so fintech companies have stepped in and have had a huge effect on the sector, said Sophie Jiang, a banking analyst at Nomura. "The rise of fintech in 2016 and 2017 has provided a great opportunity for banks to enter the consumer loan business with the help of financial technologies, under the premise that the cost and risks of such business are controllable.
"Banks are now turning towards retail banking and inclusive finance. During the process of transition, fintech will play an increasingly important role," Jiang said.