Many positives energize A shares
Share - WeChat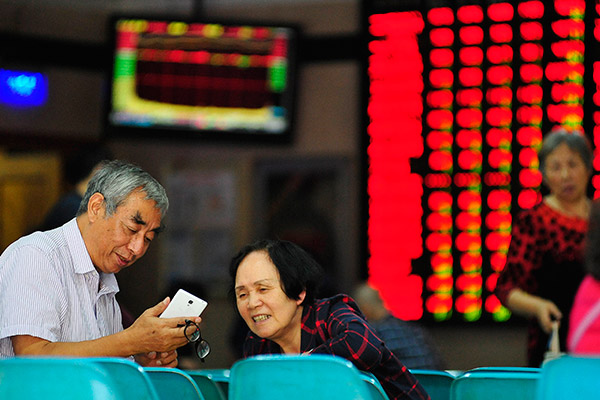 Investors cheer stock market's glad tidings at a brokerage in Changshu, Jiangsu province. [Qu Xing/for China Daily]
RRR cut, ample liquidity, profit forecasts, fund launches lift mood
China's A shares will likely shine brighter this month onward on the back of the central bank's Sept 30 cut to its reserve requirement ratio or RRR for certain banks, market insiders said.
Adding to the glad tidings are forecasts of improved third-quarter financial performance of listed companies, they said.
With the People's Bank of China or PBOC cutting the RRR effective 2018, the A-share market now has the support of good policies as well as ample funds.
So, a solid show, particularly by financial and consumer shares, is on the cards in the last quarter of the year and beyond, said Xun Yugen, a senior analyst at Haitong Securities.
The RRR cut is aimed at improving targeted lending to certain segments of the economy such as small and medium-sized enterprises or SMEs, startups and agriculture.
In China, the RRR signifies the amount of cash as a percentage of deposits that some banks must park with the PBOC as reserves.
For major banks, the RRR is 16.5 percent. The last RRR cut became effective in March 2016.
Banks that offer reasonable amount of credit to the struggling private sector benefit by way of a lower RRR, which helps them to lend more and earn more.
The earlier-than-expected cut on Sept 30 could potentially inject additional liquidity of about 300 billion yuan ($45.3 billion) to 400 billion yuan into the system from next year, said Hong Hao, chief strategist at BOCOM International, an investment bank and a subsidiary of Bank of Communications.
In addition, the manufacturing Purchasing Managers' Index rose from 51.7 in August to 52.4 in September, the highest level since May 2012, according to the National Bureau of Statistics.
This should help shore up investor confidence, said BOC International, an investment bank and a subsidiary of Bank of China, in a report. "We believe the A-share market ... will be positive, especially the ChiNext board."
Hong of BOCOM International, however, said the RRR cut is a structural adjustment that does not change the country's overall monetary policy stance.
But additional liquidity will be good for stocks, he said. "Therefore, we are bullish on the performance of the A-share market in the coming months."
Chen Guo, chief strategist at Essence Securities, said forecasts show listed companies' profitability is intact, which should further brighten market mood.
Of the 1,330 A-share companies that released their third-quarter performance forecasts by Oct 9, 75 percent said they were profitable in the first quarter, according to data from Wind, an information service provider.
"We are optimistic about the A-share market. Shares in banking, securities, steel, coal and new energy automobile companies could offer good opportunities for investors," said Chen.
Another positive is that nearly 800 fund products were launched this year (till Sept 29), with Bosera Asset Management Co Ltd and China Southern Asset Management Co Ltd unveiling more than 20 products each.
In all, the funds mopped up more than 423 billion yuan, up 66 percent year-on-year. This would further boost liquidity, according to Securities Times.
A Morgan Stanley report said Chinese personal financial assets will reach 163 trillion yuan by the end of 2019, with equity holdings among them expected to increase by 10 trillion yuan to 11 trillion yuan from the first half of 2017 to 2019.
The report said profits, especially of banks and the manufacturing sector, continued to rebound, which will be a positive as strong corporate performance will likely attract investors seeking high returns to the stock market.
Dong Dengxin, a finance professor at the Wuhan University of Science and Technology, said production overcapacity could still be a problem for the Chinese economy, which may cast a shadow on the A-share market.
Encouraged by supportive policy, upstream companies such as those in the coal and steel industries cut their overcapacity in the second half of last year, but they will again face the challenge of overcapacity this year, Dong said.
The Shanghai and Shenzhen stock exchanges saw a surge of IPOs in the first half of this year, he said.