Local woman makes life easy for foreigners
Share - WeChat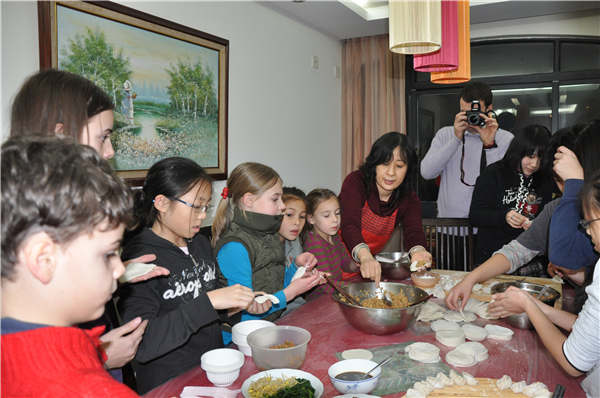 Ask any expatriate living in Changjiang Community who Wu Yanheng is and they will likely reply with a smile.
After all, the 58-year-old is a well-known figure in the housing community, having helped many of her foreign counterparts settle into their new lives in Wuxi, Jiangsu province.
Wu also lives in the residential compound, which is home to about 600 foreign families. According to city officials, there are presently about 10,000 foreigners living and working in Wuxi.
Wu, who speaks fluent English, was one of a handful of Chinese volunteers responsible for helping foreigners a decade ago. Today, there are about 30 volunteers like her.
Wu says her desire to help others stemmed from her own experience of living in a foreign land.
Wu followed her husband, Zhou Weidong, to the Philippines in 1988 when he was assigned to the headquarters of the Asian Development Bank in Manila as a Chinese agricultural expert.
"I was treated very kindly by the local people and the spouses of the international staff at ADB," Wu says. "Besides telling us where to buy items of daily necessities, they also taught me much about local culture and etiquette."
To give back to the Filipino community, Wu later participated in charity events, including a bazaar organized by ADB where she sold traditional Wuxi handicrafts such as clay figurines and tea pots. She donated all her takings to a fund that supported local students.
Wu returned to Wuxi in 2006 and chose the newly built international neighborhood as her home. Inspired by the warmth of her Filipino hosts, Wu decided to help foreigners in her hometown.
She says volunteering is also a way to set an example for her daughter.
Wu, a full-time housewife, spent much of her spare time in volunteering, which includes helping foreigners translate Chinese materials and teaching them how to go about paying their bills. Occasionally, she also goes above and beyond her usual job scope.
When a Malaysian family was facing problems finding bilingual education for their daughter, she accompanied them on visits to various schools.
When a Turkish family needed to go to the hospital, Wu drove them so that she could communicate with the local doctor about their health.
Wu also actively participates in the organization of cultural events. During the Dragon Boat Festival last year, she invited foreigners to make the traditional zongzi, or glutinous rice dumplings, snacks that Chinese eat then.
In the past, she put on an international fashion show that showcased the traditional attire of the countries her expatriate friends come from.
In 2008, Wu founded the volunteer group You & Me that comprises many foreign volunteers. The group has since organized charity sales to support local students, donate books and school supplies to students in Yunnan province, as well as visit local orphanages.
For her efforts, Wu was given the Wuxi Good Samaritan Award in 2017.
Xie Yao, a community worker in the neighborhood, says Wu is so liked that she even has a nickname given by the local volunteers-"the diplomat".
Wu keeps one vacant room in her apartment for foreigners who are in Wuxi for short visits. The room is offered free of charge to foreigners who are referred by her friends, she says.
"I just want to make their lives in China easier and make them feel at home."
Most Popular