Twice as many Chinese tourists visit UK
Share - WeChat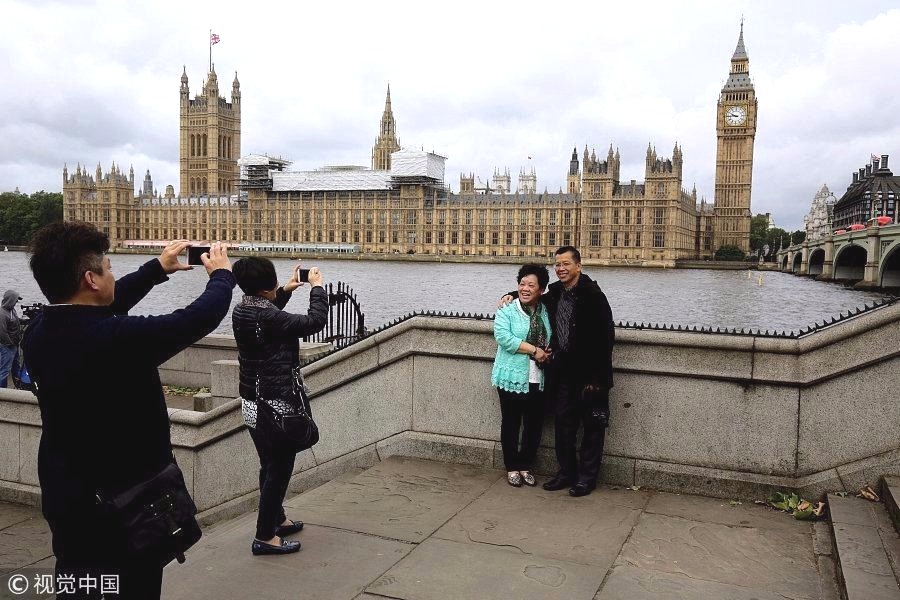 Twice as many people traveled from China to the United Kingdom in 2017 as made the trip in 2016, making it one of the fastest-growing overseas destinations among Chinese tourists, according to a new report.
Ctrip, one of China's leading online travel companies, said more than 60,000 people booked a trip to Britain through its platform in 2017; twice the number that did so the year before. The increase was fuelled by the depreciation of the British pound and the launch of additional direct flights between China and Britain, the report said.
It revealed that 42 percent of Chinese travelers to Britain were part of a tour group.
Most Chinese visitors stayed in the UK for between eight and 10 days, spending around 10,000 yuan ($1,589) each while in the country. Trips lasting for longer than 15 days were also popular.
Castles, churches, and opera houses were among the main attractions.
Another report, jointly released by the China Tourism Academy and Ctrip earlier this year, said Britain was in the top three favored European destinations among Chinese tourists. The same report put London in third place in a listing of popular European cities.
Ctrip said it will continue to promote visits to Britain, by deepening cooperation with local travel agencies and launching more products.
Ctrip bought UK travel comparison website Skyscanner for 1.4 billion pounds ($1.75 billion) at the end of 2016.
Ctrip's Destination Marketing and Britain's tourism agency, VisitBritain, have entered into a strategic partnership that will focus on raising brand awareness and expanding UK product distribution channels, as well as promoting the UK as a destination for Chinese outbound travelers.
Jane Sun, Ctrip's chief executive officer, recently said: "China's travel industry will continue to see growth in the future, with official Chinese figures predicting more than 700 million outbound trips in the next five years."
Sun emphasized that Chinese tourists are not just beneficiaries of the global economy but also contributors.
"China has become the world's largest source of outbound tourists," she said. "Considering that only 10 percent of Chinese hold a passport, we anticipate a period of explosive growth in the next decade."