New UN envoy talks of key China role
Share - WeChat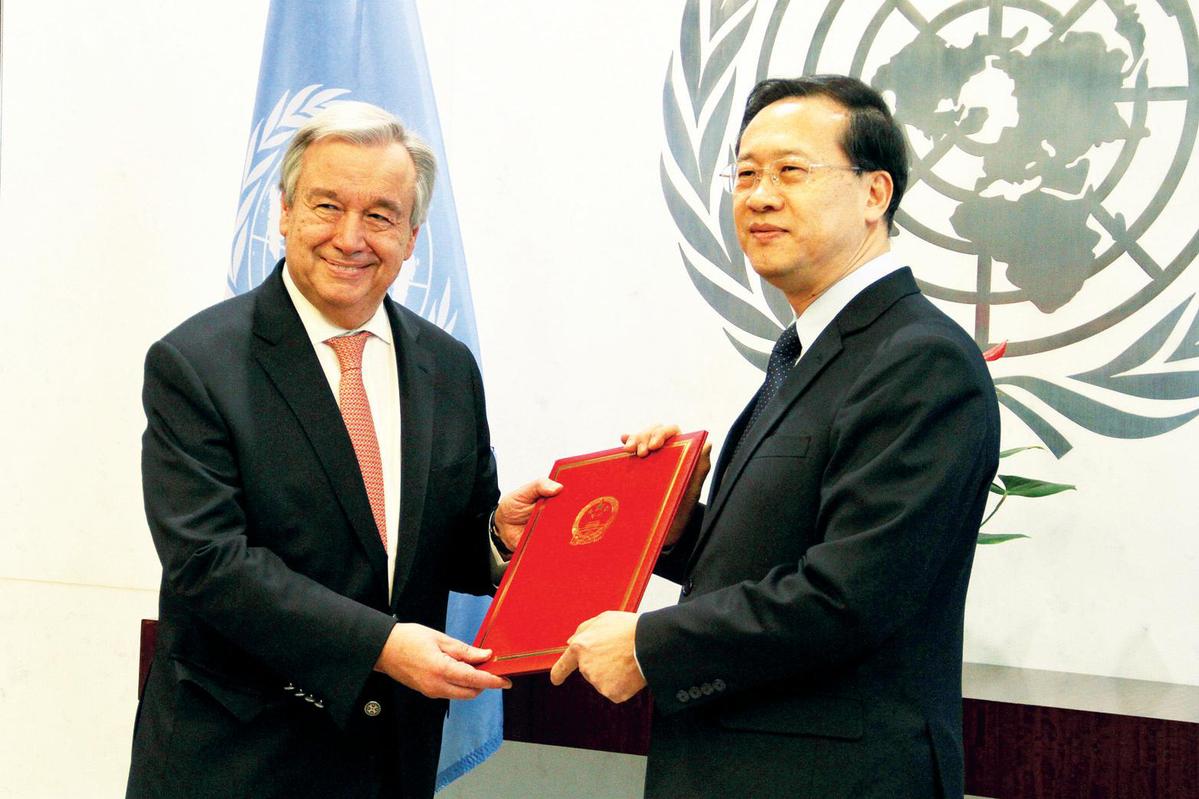 Ma Zhaoxu, China's new envoy to the United Nations, sees his country playing a key role in a rapidly changing world.
He said the world today is undergoing major development, changes and adjustments; the power structure among countries has become more balanced; the changes in the global governance system and the international order have been accelerated.
"In the meantime, China is increasingly approaching the center of the world stage. The international community generally expects China to play a key role in promoting multilateralism and meeting global challenges," said Ma, who presented his credentials to UN Secretary-General Antonio Guterres at UN Headquarters in New York on Tuesday.
Ma said that as the most universal, representative and authoritative intergovernmental organization, the United Nations is the main platform for participating in global governance and promoting a shared future for mankind.
"China will make joint efforts together with the rest of the world community to promote the UN playing a greater role in safeguarding world peace and promoting common development," Ma said. "Also, China will make its own contribution to promoting a new type of international relations based on mutual respect, fairness, justice and win-win cooperation, as well as building a community of a shared future for mankind."
Ma emphasized the importance of taking the spirit of the 19th National Congress of the CPC as guidance, thoroughly implementing Xi Jinping Thought on Socialism with Chinese Characteristics for a New Era and implementing it in all concrete tasks.
Ma reiterated that as a permanent member of the Security Council and a responsible, big country, China must firmly safeguard the authority and status of the United Nations and support it in playing an active role.
"We will actively fulfill our due obligations and responsibilities, actively participate in the reform and construction of the global governance system, and continuously contribute China's wisdom and programs," Ma said.
"China will always be the builder of world peace, contributor to global development and the defender of the international order," he added.
Ma was born in September 1963 in Heilongjiang province in Northeast China. He has a PhD in political economics. He has been named permanent representative and ambassador extraordinary and plenipotentiary, permanent mission of China to the United Nations.
Ma previously was permanent representative and ambassador extraordinary and plenipotentiary, permanent mission of China to the United Nations Office at Geneva and other international organizations in Switzerland since April 2016.
He served as ambassador to Australia from 2013 until 2016.
xiaohong@chinadailyusa.com