Soft power from cultural exports
Share - WeChat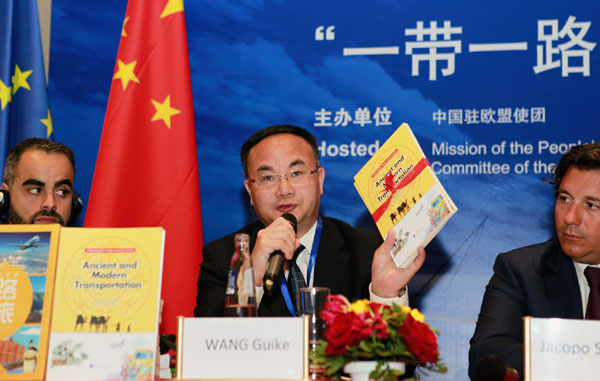 Guangdong Provincial Publishing Group Co Ltd or GPG is highlighting a little known aspect of China's Belt and Road or B&R Initiative-that it is not only about building trade and infrastructure networks to connect countries and regions, but also about helping even culture-related companies to expand into new markets.
GPG publishes and exports more than 8,000 kinds of books and 200 types of e-books and audio-visual products annually. It is now tapping multiple channels to serve the world better in the wake of the B&R Initiative, according to its top executive.
Wang Guike, chairman of GPG, said, "The Belt and Road Initiative has helped create myriad opportunities and a huge space for cultural companies to increase their offshore sales in the coming years. And GPG will seize such opportunities and spare no effort to expand abroad.
"GPG is seeking to expand Sino-foreign cooperation, merge with, or acquire, overseas companies, entrust foreign distribution agents and introduce digital distribution to increase its presence in the world market in the years ahead."
Xiao Surong, GPG's publishing director, said the company's book exports will likely triple this year.
Demand for Chinese books and cultural products has been on the rise, particularly in the B&R-related countries and regions, as the country has been expanding its Sino-foreign exchanges and cooperation with the rest of the world, Xiao said.
"And that would certainly help GPG and other domestic cultural companies to further increase their overseas sales in the years ahead," he said.
But Xiao did not project how many books the company will be able to sell abroad annually in the years ahead.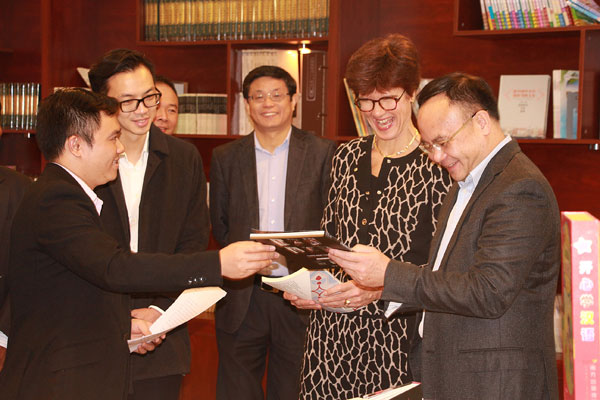 Most of its books that were sold abroad mainly cover languages, culture, literature, economics and Chinese social customs.
Xiao said he is expecting to see more textbook exports in the following years. "Textbooks that are now representing only 15 percent of the GPG's overseas book sales, have great potential," he said.
GPG signed a contract with a Malaysian company to promote a Chinese calligraphy textbook in the Southeast Asian country.
According to the contract, the calligraphy textbook, entitled Immersion in the Chinese Calligraphy, will be introduced in more than 1,000 Chinese-language schools in Malaysia in the coming months.
It will also be introduced in north African country Morocco in March.
GPG is also compiling more teaching materials, aimed at developed markets like the United States and Europe, Xiao said.
To meet growing global demand for Chinese books and cultural products, GPG is now talking with Singapore's World Scientific Publishing to set up a joint venture to publish and sell Chinese books and cultural products in Singapore and rest of Southeast Asia.
In July last year, GPG has signed a contract with a Belgium company in Brussels to establish GPG's Europe subsidiary to expand its presence in the European Union.
"The Belgium branch is now waiting for the final approval from the government departments concerned," said Xiao.
"The Singaporean and Belgian companies are just part of GPG's ambitious strategic development plan to explore the world market," Xiao said.
Meanwhile, more negotiations to establish special editorial offices in North America, Europe and Southeast Asia are underway. Many distributors are in talks with GPG for expansion of overseas sales, said Xiao, who is also in charge of the publishing department of Southern Publishing and Media Company Limited or SPM, a Shanghai Stock Exchange-listed company and a major subsidiary of GPG.
Upon listing in February 2016, shares of SPM had hit the upper limit on 10 successive trading days.
Insiders attributed the stock's strong performance to the B&R Initiative, which helps domestic cultural companies to expand globally.
GPG has sold more than 1,300 kinds of books abroad since its founding in 1999. It has established cooperative partnerships with publishers in the United States, Canada, the United Kingdom, Russia, Germany, Italy, Hungary, Greece, Japan, South Korea, India, Vietnam and Indonesia in recent years.
GPG has also actively participated in international book fairs in the US, France, Britain and Italy.
In July last year, Shen Haixiong, head of the Publicity Department of the Communist Party of China Guangdong Provincial Committee, led a cultural delegation to visit Belgium, Germany and Russia to expand cultural cooperation and exchanges between Guangdong and Europe.