TCM gets healthy Silk Road boost
Share - WeChat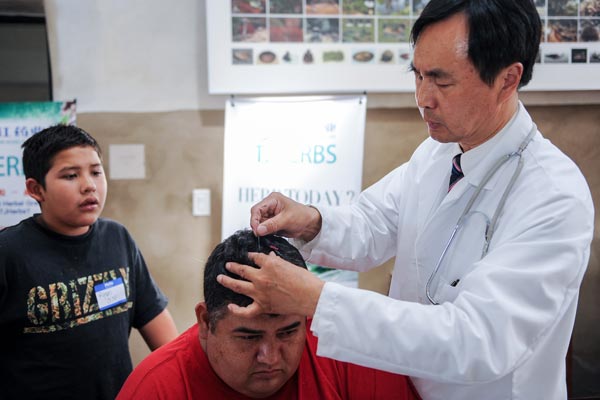 A TCM doctor treats a patient in Claremont, California, using acupuncture in 2016. [Photo/Xinhua]
China will issue a development plan for traditional Chinese medicine as part of the overall Belt and Road Initiative, according to a senior TCM official.
The plan would facilitate TCM cooperation and development in countries along the initiative's route, said Wang Xiaopin, director of the International Cooperation Department at the State Administration of Traditional Chinese Medicine.
It would cover services, scientific research, the drug industry, trade, education and cultural exchanges involving the field, which has its roots in ancient times.
The initiative refers to infrastructure investment and trade linking Asia, Europe and other areas, covering more than 60 countries and 4.4 billion people. It is based on historic Silk Road routes and was launched by President Xi Jinping in 2013.
Centers will be built in areas along the initiative's route as anchors for TCM cooperation and development, Wang said. Plans call for 17 such centers overseas by the end of 2017.
"That's in line with their demands as well," she noted. Between 2011 and 2014, over 30 countries along the route, including Russia, France, Malaysia, Italy, Australia and Qatar, expressed an interest in TCM collaboration with China, such as building TCM hospitals together, Wang said. The plan also would address TCM standards and promotion.
China's central government also has set up a fund for international TCM cooperation projects, with a focus on countries along the initiative's route, she said. The amount of the fund has not been disclosed.
In 2015, TCM exports were valued at nearly $3.8 billion, and a majority of the countries that recognized the legal status of TCM medicines are within the target route, officials said.
Worldwide, the TCM market as a whole, including services and medicines, is valued at more than $50 billion, industry analysts said.
Still, "challenges exist as well," Wang said, citing issues like varying development, different religions and social norms, different regulations governing TCM, a short supply of talent and trade barriers.
Wang Guoqiang, head of the State Administration of Traditional Chinese Medicine, said promoting widely accepted therapies like acupuncture before TCM drugs is an effective strategy for TCM promotion overseas, especially since not all traditional medicines have undergone laboratory testing.