Doubling of visa-free stays seen as catalyst for growth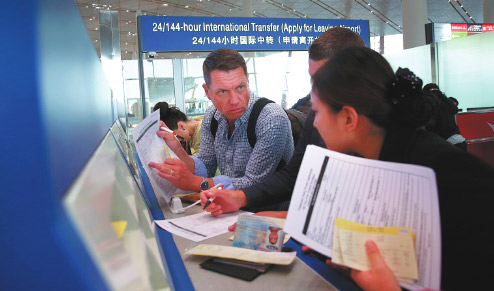 Influx of visitors to Beijing and neighboring regions expected to boost consumer spending
An expanded visa-free stay policy is expected to boost the integrated growth of Beijing, Tianjin and Hebei province, government officials said.
The new policy, announced on Dec 28, allows visitors from 53 countries to stay for up to six days in the three provincial locales, after their entry from any of six designated transport hubs.
The entry points are Beijing Capital International Airport and Beijing West Railway Station in the capital, together with Shijiazhuang Zhengding International Airport and Qinhuangdao Port in Hebei province, Tianjin Binhai International Airport, and Tianjin International Cruise Home Port.
The points of entry will have access to the widespread transportation network in the Beijing-Tianjin-Hebei region, covering air routes, waterways and rail lines.
Carrying travel identification and reserved tickets with a fixed date to a third country or region within 144 hours, foreign nationals from the 53 countries, including the United States, the United Kingdom, Russia, Australia and Singapore, are eligible for the waiver.
The visa-free stay will help streamline the transfer procedures for flights, sea transportation or railway services and increase the inflows of international travelers, said Zhu Lei, deputy director of the Port Office of the Beijing government.
Beijing and Tianjin previously allowed a 72-hour visa-free stay. Since it came into effect in Beijing in January 2013, Beijing Capital International Airport had received more than 80,000 applications for the visa-free stay by the end of 2016, according to the airport.
In Beijing alone, more than 26,300 travelers benefited from the waiver in 2016, a 32.2 percent increase from the previous year, government data show.
Despite the popularity of the 72-hour waiver, Zhu cited a survey saying that 40 percent of foreign respondents found that 72 hours was too short a period to meet their needs for an in-depth experience of local culture or short-term business activities.