Cultural ministers of China, Vietnam meet in Beijing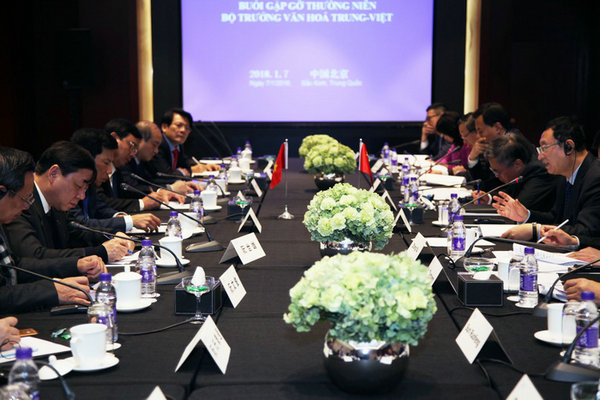 China's Cultural Minister Luo Shugang had a meeting with Nguyen Ngoc Thien, minister of the Culture, Sports and Tourism Ministry of Vietnam in Beijing, Jan 7.
The two ministers had an in-depth talk on cultural exchanges and cooperation between the two countries in many fields, including art education, the cultural industry and intangible cultural heritage.
After looking back on their achievements regarding mutual cultural relations, the meeting confirmed a series of important cooperative areas for the present. The China Cultural Center in Hanoi will serve as an important platform to enhance cooperation in the cultural industry and other fields. Exchanges and cooperation among cultural institutions and enterprises will be promoted as well to strengthen strategic cooperative relations between China and Vietnam.
Luo said the friendship between the two nations should be promoted to a higher level in the new era. The agreements reached at the meeting should be turned into fruitful results as soon as possible. He said creativity is a strong power for energizing cultural relations between the two countries.
Nguyen Ngoc Thien praised efforts made by the Ministry of Culture of China for cultural exchanges on both sides. He fully agreed with Luo and will enhance communication and cooperation with China.