Airbus seeks new A380 orders in China
Share - WeChat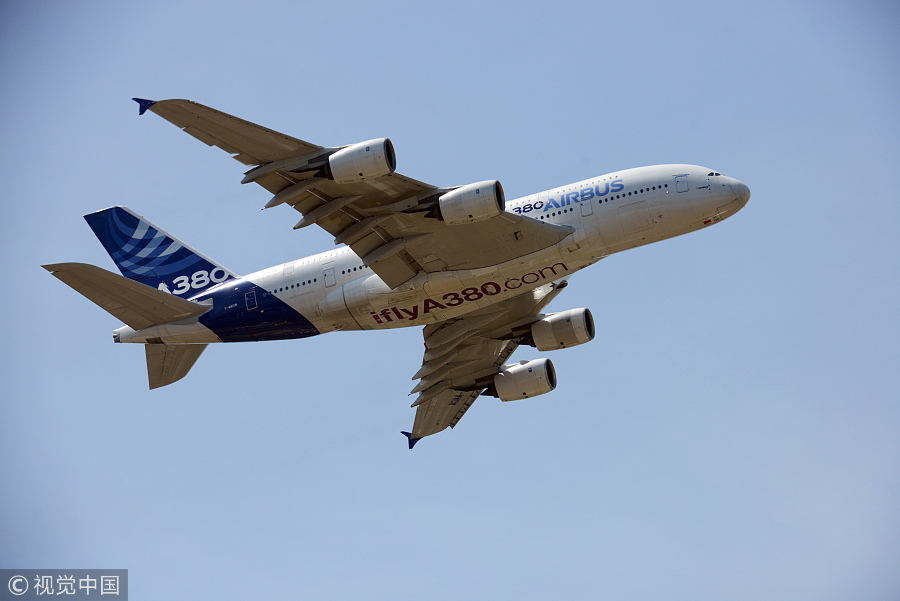 Airbus' senior executive will accompany French President Emmanuel Macron on the state visit to China as the aircraft maker seeks new customers to buy the company's A380, Financial Times reported on Monday.
According to the paper, the aircraft maker's outgoing Chief Operating Officer Fabrice Brégier will hold early stage discussions on the subject with Chinese companies.
Airbus will propose to increase output of A320 at its Tianjin final assembly line. According to Financial Times, citing people close to the discussions, the output of A320 will be increased from 4 aircraft to 5 a month.
The plane maker also expects to sign a deal to sell 100 aircraft to China Aircraft Leasing Group during Macron's China trip. The deal is valued at more than $10 billion, and will include a mix of single and twin aisle planes.
Last Friday, China Aircraft Leasing Group announced it had bought 15 A320neos worth $1.63 billion.
New potential orders for A380 will break up the world's largest passenger jet's cloudy outlook.
Airbus earlier announced plans to cut A380 output to 12 aircraft in 2018 and eight in 2019, down from an annual peak of 30, Reuters said.
In order to save A380 from shutting down, Airbus discussed with Emirates Airlines a deal worth $16 billion for 36 planes. But, according to Reuters, the talks broke down last November. Although, the talks are again underway, the outlook is uncertain.
In Chinese market, only China Southern Airlines is flying five aircraft of A380.
China is a huge market for all aviation sector players.
By 2024, China will be the largest aviation market, the International Air Transport Association said.
In next 20 years, China will need more than 6,000 new aircraft to carry passengers and freight, Airbus said.