Wang hopes Bayern provides springboard
Share - WeChat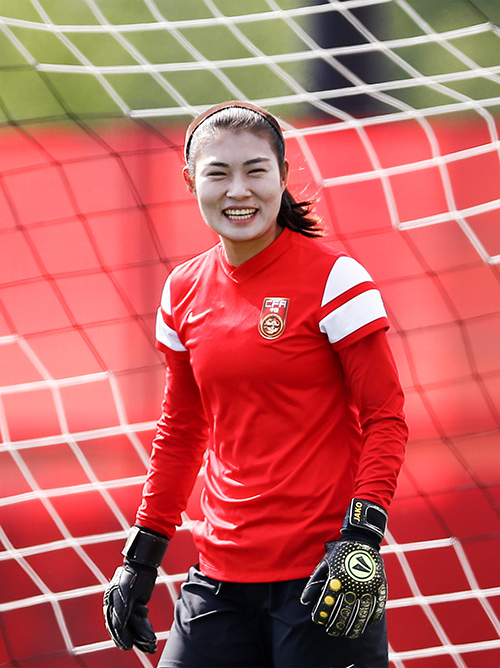 Former national team goalkeeper aiming to return to Steel Roses
Former Chinese international goalkeeper Wang Fei said earlier this week that she is aiming to perform at her best in Germany after being introduced into the FC Bayern Munich women's side last month.
"I will try my best to become the first-choice goalkeeper in Bayern and help our club win in the Frauen-Bundesliga and in next season's Champions League," said the 28-year-old.
"A soccer career is short, so I want to see the best of myself with this platform and achieve as much as I can at my peak time."
Wang chose the No 1 jersey at the Bavarian club, which is also the number of her idol, Bayern men's goalkeeper Manuel Neuer.
"Neuer is a very versatile goalkeeper and I want to learn from him," said Wang.
Her 18-month contract with Bayern Munich marks the third time Wang has joined a European club.
In 2014, she became the first Chinese in the Frauen-Bundesliga after signing with Turbine Potsdam. In the summer of 2015 she transferred to Division 1 Féminine champion Olympique Lyon. Turbine's veteran manager Bernd Schroder praised Wang's impact on the squad and called her a "new Nadine Angerer" in reference to the retired German legend.
"Germany has the best football atmosphere and training system," said Wang, adding that she hopes her experience will inspire more female Chinese players to chase their dreams overseas.
"Language is another big barrier. So I have been learning German for the past three months."
Wang made her debut for the Chinese national team at the age of 22 and played as a regular in the 2015 FIFA Women's World Cup in Canada.
During that tournament, FIFA described her as "tall, agile and one of China's most impressive performers" in the team's march to the knockout stages.
But Wang's international career took a dramatic turn for the worse after she was involved in several confrontations with head coach Bruno Bini of France.
She retired from the national team in February, 2016.
"Looking back, 2016 was a horrible year for me," she recalled.
"I didn't want to play soccer any more at that time, but after I calmed down and reconsidered things, I wanted to say thank you to Bruno. He changed me a lot and pushed me to grow up."
Wang is confident her future will be more stable and that her performance in Bayern will convince Icelander Siggi Eyjolfsson, the new head coach of the national team, to bring her back to the Steel Roses.
"First I have to do my job in the club well. After that, I hope I can go back to the national team as soon as possible," said Wang, who will begin training in Munich on Monday.
She expects to make her official debut for Bayern in February.