Island expansion is discernibly reasonable
Share - WeChat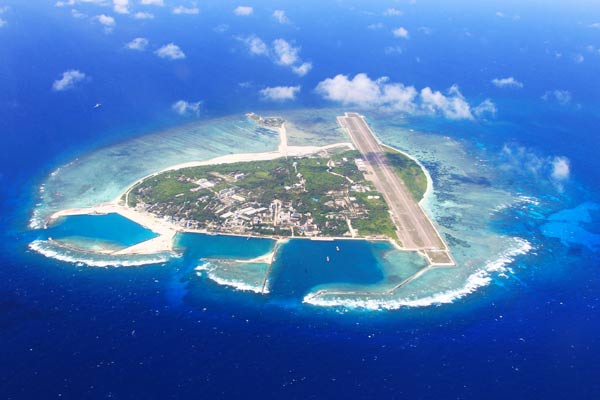 Worrywarts upset themselves by worrying about troubles of their own imagining, and trigger mass hysteria if they find receptive ears for their fears. This is what keeps happening with China's so-called island building in the South China Sea.
This time it is a report by the overseas edition of People's Daily-with the remark that the country's permanent land area in the waters has "expanded conspicuously" after recent reclamation work-that seems to have given rise to the heebie-jeebies.
Not everyone likes China's claim of sovereignty over those islands and reefs, and its construction of various facilities, including defensive and radar installations, is viewed with dismay and concern. Likewise, the increasingly frequent long-distance patrol flights conducted by the People's Liberation Army Air Force have prompted all kinds of unnecessary speculation and interpretations.
However, as China's interests are extending globally, it would be shirking its responsibility if it did not seek to guarantee its expanding economic presence with due defense arrangements in this way.
In the end, all the fuss boils down to a matter of mentality-some people just find China's growing presence unsettling. Not least the United States, which views China's activities in the South China Sea as a challenge to what President Donald Trump asserted was his country's right to do as it pleased when he said, "We dominate the sky. We dominate the sea. We dominate the land and space," while addressing US troops at Yokota Air Base in Japan at the start of his five-country visit to the region in November.
The US' efforts to shore up its self-aggrandizing dominance in the region in response to China's going out has led to its increasing militarization of the waters with its pivoting of US naval assets to the region and its habitual scare-mongering to bring its allies closer to heel.
But while there can be no denying China's role in the region is growing, and increasingly butting up against that of the US, that is to be expected as it is now the world's second-largest economy. And its growing influence is benefiting the region, as the ASEAN Foreign Ministers acknowledged at their meeting in August, welcoming the Association of Southeast Asian Nations' improved cooperation with China.
And it should be borne in mind that despite the various complaints and accusations of the US and some of its allies that have their own axes to grind, no detractor has actually nailed even one case of China obstructing freedom of navigation or overflight.
Such claims of concern about China's activities in the South China Sea illustrate vividly how things can be twisted to convey a message that has no foundation in fact.
Most Viewed in 24 Hours
China Views