Art lessons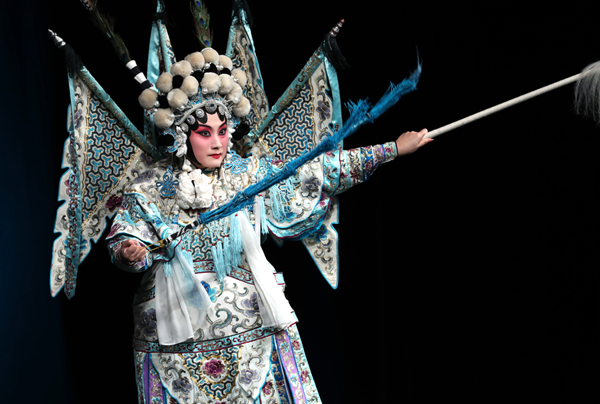 Raw emotion
In the auditorium of the University of International Business and Economics, the lights dim, the curtains part, and a young man wearing long whiskers, a black robe and thick-soled boots walks slowly toward the center of the stage to the beating of drums and small cymbals played by a band of seven musicians sitting in corner onstage.
"He looks so handsome," Zhang whispers to her classmate sitting next to her.
As the actor utters the lines from Ji Gu Ma Cao, a classic Peking Opera piece, which is adapted from one of the stories of the Romance of the Three Kingdoms, a 14th-century novel by Luo Guanzhong, everyone in the room falls silent.
The actor sings in a firm voice, using a wide vocal range, his long sleeves roll in the air. He receives waves of applause, which finally erupts as he concludes his short performance.
"The role I played is generally called sheng in Peking Opera, which is a male role. There are xiaosheng (young male roles), laosheng (old male roles) and wusheng (martial arts male roles)," says the actor Liu Jing.
After Liu's performance, three other young Peking Opera performers display different roles, dan (female role), jing (painted-face male role) and chou (comic male role), elaborating on their roles afterwards.
"Though I had to look at the subtitles on the screen, I enjoyed the raw emotions they delivered onstage," says Zhang, who filmed the performances and shared it via Sina Weibo, China's answer to Twitter.