Initiative signed to promote winter sports in China
Share - WeChat A China youth ice hockey development initiative was launched Thursday in Beijing, calling for further popularity of the sport in China in response to the "300 million people on ice" national campaign in the run-up to the 2022 Beijing Winter Olympics.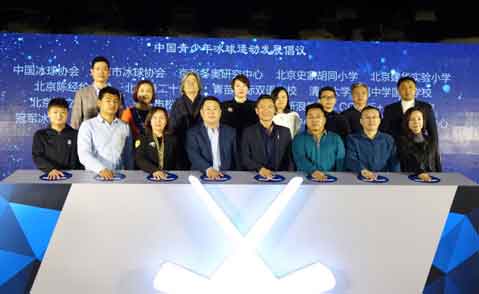 Teenagers are of great importance to the campaign, as the largest potential group of the quoted 300 million. Education is the foundation, and cultural promotion is key to the process, according to Fang Xuefeng, secretary of the Chinese Ice Hockey Association.
Unlike in Western countries, Chinese ice hockey development is in the starting phase. The lack of ice rinks, facilities, and coaches remain major problems. In addition, popularity is imbalanced between North and South China, as the weather conditions are not conducive to "ice sports" in the south.
"We hope schools can combine with ice rinks and sports clubs in the future," said Liu Zhongyi, headmaster of Chen Jinglun Middle School. "Students who do sports well are as excellent as those who study well."
Chen Jinglun is one of the first schools in Beijing to open ice hockey classes and join teenage leagues. The school established three teams with more than 100 players among 7,000 students from 12 branch schools in Beijing.
The manager of Sina Sports, Wei Leijiang, said what the campaign needs is efforts from all parties including students, parents, schools, associations, ice rinks and media.
Sina sports began to tap sport industry in terms of organizing competitions from 2015. Now they have quite several independent IPR tournaments including 3-to-3 basketball and five-a-side football. The Youth Hockey League (Asia Region) kicked off its first season this year.
Beijing, with half the teenagers playing ice hockey in China, has comparatively better facilities in schools and more youth ice hockey league matches.
After its successful bid for 2022 Winter Olympics, more youngsters are expected to be lured to and enjoy winter sports like ice hockey.