Transfer binge gets red card
Share - WeChat Study exposes risks of overspending as CSL clubs urged to balance the books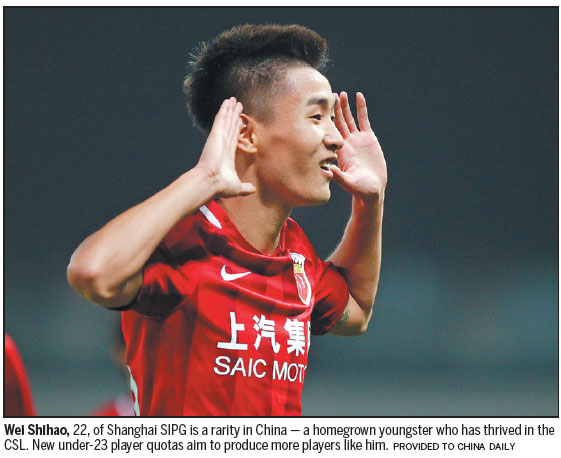 Big-spending Chinese Super League clubs have been warned to tighten their purse strings or risk hamstringing the nation's soccer push.
Mega-money deals for the likes of Oscar, Carlos Tevez and Hulk have seen some Chinese clubs rise to the top of the global spending charts in recent seasons.
However, a study by accounting firm PricewaterhouseCoopers has exposed looming dangers for soccer's long-term health here, both on and off the pitch.
The study found that 16 CSL clubs spent a total of 11.01 billion yuan ($1.66 billion) in 2016 but only generated revenues of 7.08 billion yuan, running with average loss of 245 million yuan per club.
The analysis was unveiled at a recent international symposium on club financial risk prevention in Beijing attended by Chinese Football Association officials, researchers and representatives from FIFA and major European clubs.
Du Zhaocai, the Party chief of the CFA, urged professional domestic leagues and clubs to focus more on balancing the books.
"The irrational spending in the transfer market which has resulted in thin investment in youth development is taking its toll on our leagues' rapid development," Du said at the summit.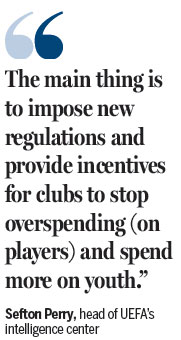 "Institutional measures should be further implemented to encourage clubs to aim for long-term goals with financial viability."
Inspired by the national soccer reform plan, which was rolled out in early 2015, investment in the game from China's business sector has been skyrocketing, with the $410 million spent by 16 CSL clubs during the 2016-17 winter transfer window the largest player outlay by any league in the world for that period, according to German website transfermarkt.com.
However, investment in youth development pales in comparison to transfer fees and player salaries.
The PwC study revealed that, on average, CSL clubs spent 32 million yuan on youth training in 2016 - only about 7 percent of their employee costs and less than 5 percent of their total expenditure.
Observers note that clubs are faced with a tricky dilemma.
"On one hand it's important to sign star players to help ticket sales, TV revenue and club merchandizing, while on the other hand it's crucial to develop more revenue sources to support the system," said Kevin Ong, a club financial supervisor with the Asian Football Confederation.
Sefton Perry, head of UEFA's intelligence center, said it's normal for a young league like the CSL to overspend but compulsory measures are needed to curb long-term losses.
"I would argue that to some extent overspending is rational because one of the objectives of the owners is not necessarily earning a financial return," he said. "It's not new. We have this problem in Europe as well.
"The main thing is to impose new regulations and provide incentives for clubs to stop overspending (on players) and spend more on youth."
From this year, the CFA has enforced a series of new rules to curb excessive spending. Starting with the summer transfer window, any club losing money have to pay an extra sum to a CFA-supervised youth development fund equivalent to the transfer fee paid for any new foreign import.
Also starting next season, the number of under-23 Chinese players that CSL and second-tier clubs use must at least equal the number of foreigners used.
As well, every team must have at least three under-23 players in its 18-man lineup and must start at least one of them in matches.
Following the example of Japan's J-league, the CFA will suspend any club from competition that runs at a loss exceeding a certain benchmark for three consecutive years.
The new regulations had an immediate effect in the summer transfer window, with no expensive signings going through.
"I quite like the measures," said Perry.
"With the support of the government, China has the opportunity to bring in sanctions and rules to restrict how these clubs spend. You have to understand it's for the development of the Chinese players. It seems quite appropriate."
Still, building robust revenue streams is quite a different ball game.
According to the PwC report, income from sponsorship and advertising accounted for 72 percent of CSL club revenues in 2016, while match-day earnings, including ticket sales and merchandise, only accounted for four percent.
In contrast, Germany's Bundesliga only drew 28 percent of its total revenue from sponsorship in 2016, with clubs prospering in areas such as ticketing, club membership and affiliate businesses in training and hospitality.
Zhang Yi, an accounting partner at PwC, urged Chinese clubs to work harder at diversifying their revenue structures.
"There remains big potential in match-day revenue, commercialization of club brands and fan bases as well as merchandizing," he said.
CFA vice-president Zhang Jian, meanwhile, has outlined a timetable for clubs to establish transparent financial systems and gradually reduce funding from owners by 2020, with the ultimate goal of breaking even - a move welcomed by Beijing Guo'an.
"It's more realistic to evaluate CSL clubs' financial status by tracking how much less an owner has to invest every year than how quickly a club can make profits," said Guo'an general manager Gao Chao.
sunxiaochen@chinadaily.com.cn